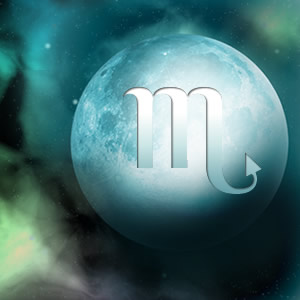 The Full Moon in Scorpio (4:09 a.m. PDT on Tuesday, May 17) brings the profound hunger and desire of the deeply feeling water sign into opposition with the Sun in contented, earthy Taurus. We are confronted by needs we may not even recognize. Self-containment and simplicity may need to give way to the complications of giving and receiving more from others. Find out how this intense Full Moon in Scorpio will affect your sign:
Aries (March 21 - April 19)
As independent as you like to be, this Full Moon reminds you that you need others in your life. You may have to pay more than you'd like for the material, physical or emotional desires that are awakened by the intensely emotional event. But you can either go hungry with self-sufficiency or fill up by sharing.
Taurus (April 20 - May 20)
This Full Moon challenges your fundamental need to keep things simple and down to earth. A discontented partner or your hunger for a richer connection may cause you to leave the safety of your comfy emotional cave and encounter the values of others that are bound to stretch you.
Gemini (May 21 - June 20)
The single-minded Full Moon in Scorpio falls in your 6th House of Work, representing a need to dig more deeply on the job. Whether you have to give more in your current situation to stay afloat or you desire a more rewarding situation, powerful feelings will guide you more effectively than vague ideas.
Cancer (June 21 - July 22)
Passions can boil over with this steamy Scorpio Full Moon in your 5th House of Romance. Jealousy and desire can spur you to explore some provocative behavior, but it's probably healthier to allow your need for love to drive you forward rather than let your fear of rejection hold you back.
Leo (July 23 - Aug. 22)
The psychologically astute Scorpio Full Moon falls in your 4th House of Roots, awakening buried memories from the past or stirring up issues on the home front. Putting on a brave face may look strong, but it's much braver to dive into the dark places of fear and uncertainty where the power for real change lies.
Virgo (Aug. 23 - Sept. 22)
Reason and logic may be your usual allies, but emotion is the currency that will give power to your words and ideas. This intense Scorpio Full Moon in your 3rd House of Communication tests your commitment to your ideas and your willingness to feel as strongly as you think.