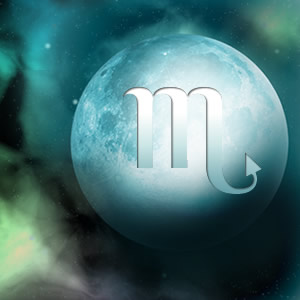 Libra (Sept. 23 - Oct. 22)
Financial concerns could reach a critical mass with the hungry Scorpio Full Moon in your 2nd House of Resources. However, the gift of this lunation is its capacity to inspire you to reconnect with underused or forgotten gifts and talents that are ready to re-emerge and be used in new ways.
Scorpio (Oct. 23 - Nov. 21)
This Full Moon in your passionate sign can either lead to a meltdown as you hit emotional or physical limits or it can signal a recommitment to your health and appearance. The latter will energize you with the sex appeal and personal power to fulfill needs that aren't being met by others.
Sagittarius (Nov. 22 - Dec. 21)
You tend to walk away from the past without regrets or recrimination. This Full Moon in deep Scorpio, though, falls in your 12th House of Forgotten Things, revealing where unfinished business and unfulfilled desires weigh you down and need to be addressed before moving ahead.
Capricorn (Dec. 22 - Jan. 19)
Complications with friends or colleagues can be expected with the Scorpio Moon falling in your 11th House of Groups. Manipulative individuals may withhold support or mistrusting allies can question your motives. Being clear about your own expectations is the fastest road to a healing truth.
Aquarius (Jan. 20 - Feb. 18)
Living in your head may not work when emotional individuals make it harder for you to meet your public and professional responsibilities. This Full Moon in secretive Scorpio challenges you to feel what others want instead of assuming that they are logical and reasonable people.
Pisces (Feb. 19 - March 20)
You may encounter contrasting attractions and fears about travel with the potent Scorpio Moon occurring in your 9th House of Faraway Places. It may become clear, though, that you need to expand your horizons or broaden your education to satisfy a hunger to grow you might not have even recognized.