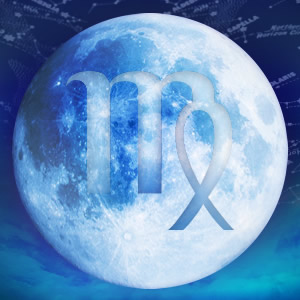 The detail-oriented Full Moon in Virgo on March 8, 2012 opposes the Sun in metaphysical Pisces, emphasizing the contrast between practical necessities and spiritual ideals.
It's meant to make us aware of the training and habits required for us to live up to our highest expectations. Faith requires good works to bring it down to Earth in usable forms. Assertive Mars' conjunction with the Moon can rub nerves raw if we're overwhelmed by petty matters that drain away enthusiasm.
Read your horoscope sign below to see how the practical-vs.-dreamt energy of this Full Moon in Virgo will affect YOUR life.
Aries (March 21 - April 19)
Work, health and habits are pushed into the foreground with this Full Moon in your 6th House of Adjustments. If your job is tedious, you may require additional training to put you in a more stimulating position. Taking better care of your body and altering your daily routines are ways to grow more efficient now. Working smarter, not harder, could be the key to your professional success.
Taurus (April 20 - May 20)
Love may come from the heart, but it requires maintenance to keep the flame burning. That's the message of this fastidious Virgo Full Moon in your 5th House of Romance. Being more careful about what you show and how you express yourself can refine your appearance and your approach to others. Better self-care increases confidence and will make you more desirable in private and in public.
Gemini (May 21 - June 20)
Family matters may require more attention with this Full Moon in your 4th House of Roots. Dealing with practical details to make your living space more appealing is a definite plus. The harder task, though, is sifting through personal history to pick up the loose threads so you can tighten your relationships with those you love and complete unfinished emotional business from the past.
Cancer (June 21 - July 22)
Knowing what you're feeling inside is not always enough to make your message clear to others. This Full Moon in detail-oriented Virgo illuminates your 3rd House of Communication, reminding you to organize your thoughts before speaking. That will empower your words with precision and make you easier to understand and more effective in making your points.
Leo (July 23 - Aug. 22)
Managing your cash flow more carefully and making better use of your resources are the key messages of this Full Moon. It lands in your 2nd House of Self-Worth in the pragmatic sign of Virgo, reminding you to tighten up your expenses and invest in training or equipment that can help your career. Spending smartly now is likely to earn you a lot more money in the future.
Virgo (Aug. 23 - Sept. 22)
This Full Moon in your sign can provoke a personal crisis or trigger a breakthrough in consciousness. It's a reminder that you are in control of your life and can redirect the course of your relationships. Trying to change others, though, is not the way to go. This is your chance to improve your appearance, attitude and health to make yourself a happier and more attractive individual.
Start this new cycle with insight! Get a Life Cycle Tarot Reading from Tarot.com.