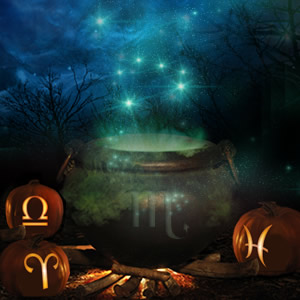 It's no coincidence Halloween happens while the Sun is in spooky Scorpio, the time of year when the mysterious veil obscuring the otherworld lifts and opens a door to spiritual dimensions. Scorpio is ruled by Pluto, gatekeeper to the underworld, and we are fascinated by all those supernatural and hidden things lurking in the darkness -- and that includes our own dark sides!
In 2011, the week leading up to Halloween also delivers a New Moon in Scorpio on October 26 that will ignite our deep, dark passions. Then the Moon moves on to danger-loving Sagittarus on October 28 to stay through the party-packed Halloween weekend, and into creepy Capricon on All Hallow's Eve October 31.
We put a dark and funny twist on your real Halloween weekend horoscopes to give you the 2011 Halloween Horror-Scopes below. See what chilling fate awaits your sign this Halloween!
Aries (March 21 - April 19)
Fearless Aries, do you suddenly feel like you're being watched? Are you paranoid?! Not so fearless anymore, are you?! Trickster Mercury short-circuits your mental wiring Halloween weekend, and unlike the headstrong Aries we know and love, you're now shivering with fright at things going bump in the night. If you make it to Halloween night without going berserk, you still risk the horror of falling in love with some deranged monster or serial killer as your crazed Venus-square-Neptune fantasies generate a foolish desire for demons. Read your real Aries Halloween Horoscope for October 31, 2011!
Taurus (April 20 - May 20)
Taurus, you gluttonous goblin -- stop gobblin' all that candy corn before you burst! Your only reason for attending Halloween parties on Saturday night is to indulge in sweets, and you're the only fiend at that party bobbing for apples just so you can have another bite. The Sagittarius Moon dares you to eat horrific amounts before Halloween night, so by October 31 you'll be hiding beneath the covers in fear of things like ghosts, goblins, calories, carbs and most of all... your scale! Mwahahahaha. Read your real Taurus Halloween Horoscope for October 31, 2011!
Gemini (May 21 - June 20)
Gemini twins flirt with evil all weekend, as meddlesome Mercury turns your words into daggers that threaten your nearest and dearest. Your Saturday night Halloween parties are fraught with dangerous opportunities to overreact and throw fiendish tantrums. But by Halloween night when the Moon forms mean aspects to Mars, Merc and Venus, you'll be so exhausted from the verbal attacks you'll collapse into a fit of mad, idiotic laughter until you're hauled away to some haunted asylum where you'll feel right at home. Read your real Gemini Halloween Horoscope for October 31, 2011!
Cancer (June 21 - July 22)
Sensitive crabs recoil from the frightful Halloween antics, so Saturday's daring Sagittarius Moon turns Cancer's caring souls into downright trolls. You'll horrify your friends by pouting and complaining about the noise and the spooks on the street, and you'll comb your neighborhood in search of black cats to rescue and cuddle in fear. By Halloween, you'll be so miffed at it all that you'll stew in silence until something provokes you, unleashing your inner demons and making your head spin 'round as though you're possessed. Eieeeeeeee! Read your real Cancer Halloween Horoscope for October 31, 2011!
Leo (July 23 - August 22)
Dramatic, attention-starved Leo: You face your face your worst fear this weekend when friends don't "get" your over-the-top Halloween costume. The Sagittarius Moon dared you to take a chance, but you took it too far and offended someone -- or even worse, confused or bored them to death. Now you're lashing out for attention, which is more scary than one of those little ghost children in a B-rated horror flick. Come Halloween Night, your temper tantrums will begin to subside, but the situation is still grave as your bruised ego compels you to chase after any ol' monster who will pay you some attention. Trust. No. One. Read your real Leo Halloween Horoscope for October 31, 2011!
Virgo (August 23 - September 22)
One need not fear and loathe vampires, beasties and ghosties this Halloween when we can flee in horror from hyper-critical Virgo demons instead. Your practical streak and need to over-plan puts a crimp on Saturday's Halloween parties, and your behavior is so stodgy you even horrify yourself! You retreat into a dark, private world until Halloween night, when the stern Capricorn Moon forms angry aspects to Mars, Venus and your ruler Mercury, turning your devilish attitude problem into a grand fiasco of overly dramatic Virgo proportions. Read your real Virgo Halloween Horoscope for October 31, 2011!
Save the fright for Halloween Night! Get insight with a Celtic Cross Tarot Reading from Tarot.com.