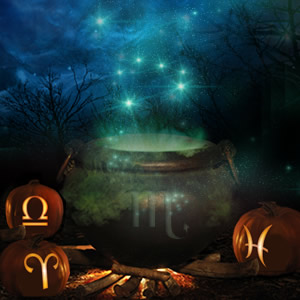 Libra (September 23 - October 22)
Fair Libra, you waste scary amounts of energy this weekend trying to take on more frightening fun than you can handle. Scale down your grand plans for Saturday night and prepare instead for the horror that awaits on Sunday when a trusted friend reveals your darkest secret to the world. Will you remain calm and balanced when this happens, or will you freak out and finally show your dark side this Halloween night?! Read your real Libra Halloween Horoscope for October 31, 2011!
Scorpio (October 23 - November 21)
You are deep and dark and haunting whether it's Halloween or not, Scorpio, but now you'll meet your monster match when others start acting even more mysterious than you. You'll be driven to madness by the secrets you uncover Halloween weekend, as Saturday's brave Sagittarius Moon prompts you to creep and spy and dig for answers. By Halloween night, harsh lunar aspects and a Venus-Neptune square will turn you into a wolfman, howling in frustration at the fact that others are not who or what they seem. How does it feel to reap what you sowed? Read your real Scorpio Halloween Horoscope for October 31, 2011!
Sagittarius (November 22 - December 21)
Did someone say "Halloween party?" The Moon's in your sign on Saturday night, Sag, and you're costumed up and ready to go. Some might say you're too ready, in fact, as your zombie drinking buddies tempt you to overindulge and wake Sunday with a horrific hangover. Shake off the evils of embarrassment and get moving again, because you're in charge come fright night. Most others are out of whack today and need you to set the Trick-or-Treating pace. Bold action is expected of you. Whose house are you going to TP? Read your real Sagittarius Halloween Horoscope for October 31, 2011!
Capricorn (December 22 - January 19)
Capricorn, you old stiff, you're like the walking dead this weekend, so at least you'll fit in. Wipe that lifeless expression off your face and wake up, zombie! There's a Halloween party to get to Saturday night, when the Sagittarius Moon is just right. By Sunday, the Moon shifts into your own sign, and the fun is over as others examine your mysterious moves and accuse you of foul play. By Halloween day, your mind is playing so many tricks on you that you'll wish you could drown out all the groaning and moaning by crawling back underground. Now read your real Capricorn Halloween Horoscope for October 31, 2011!
Aquarius January 20 - February 18)
You're a wild thing Halloween weekend, Aquarius! Get your werewolf on Saturday night and howl at the Sagittarius Moon, which inspires you to party hard and take no prisoners, except the ones you lock in your brain dungeon until reality sets back in Sunday. Then the intensity heightens beneath a controlling Capricorn Moon, and by Halloween you'll feel like a true Frankenstein monster, patched together from broken and discarded pieces as your heart and head collide and leave you unable to speak in coherent sentences. Read your real Aquarius Halloween Horoscope for October 31, 2011!
Pisces (February 19 - March 20)
Your dreams turn into nightmares this Halloween weekend, Pisces, as you expect too much and receive too little. What is happening?! Is this real?! You're edgy and confused through Sunday, when the Capricorn Moon breaks into your nightmare realm like Freddy Kruger, only to laugh menacingly at your inability to find balance. On Halloween, your nightmares will finally begin to subside, but that doesn't mean you'll be able to sleep. Read your real Pisces Halloween Horoscope for October 31, 2011!
Save the fright for Halloween Night! Get insight with a Celtic Cross Tarot Reading from Tarot.com.