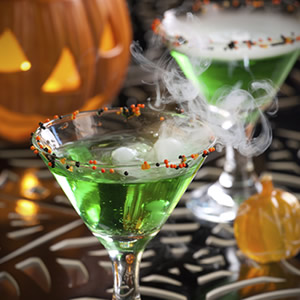 Who doesn't love Halloween? A night where you can have a blast being someone else for the night is always in spooky style. Whether you're a chill-on-the-couch type or you fancy yourself a ghost hunter, it's time to start planning your Halloween party -- and look no further than your host's horoscope sign to find a fright night fete that will strike your fancy.
Aries (March 21 - April 19)
Rams are the most likely to go all out for a Halloween bash. Expect their dwelling to be transformed into a haunted house, Halloween to be playing on the DVD player and "The Monster Mash" to be coming out of the speakers. And don't even think about showing up sans costume -- your host is likely to either send you home to change, or usher you into a back room full of outfits and pick one out in your size. This sign may be bossy, but they just want everyone to have a good time, and it usually works.
Taurus (April 20 - May 20)
Bulls want only the best of everything, so expect plenty of luxuries at their bash. There won't be any paper decorations and candy corn at this sign's Halloween party -- expect fancy hors d'ouvres with expensive ingredients, gourmet chocolates and punch made with the finest spirits and liqueurs. Taureans may not be able to get actual ghosts and demons to show up and spook their guests, but they'll definitely try to scare up some ghouls for the big night.
Gemini (May 21 - June 20)
Geminis aren't likely to throw a horror-movie extravaganza for Halloween -- this chatty sign couldn't get through one movie without talking, let alone a whole marathon. A "Ghost Story Gala" theme would be more this sign's speed. Picture a crowd (a big one, since Geminis like to be surrounded by people) telling their favorite scariest tales around a fire. Or better yet, acting them out … in costume.
Cancer (June 21 - July 22)
Crabs would never throw an adults-only Halloween bash. Expect the whole family to be present -- parents, kids, extended family members and tons of friends (who Cancer also considers "family"). This nurturing sign will have no shortage of food and drinks, either -- not only will they have enough candy on hand to feed the neighborhood kids ten times over, but they'll also have low-fat treats for the adults who are watching their weight, sugar-free snacks for the diabetics in the house and alcohol-free ale for those who are driving.
Leo (July 23 - August 22)
Lions love big bashes full of pomp and circumstance. If you go to a Halloween party at a Leo's house, expect a Renaissance-style masquerade ball, full of elaborate masks, cinched waists and puffy sleeves and skirts. Also expect your host to stay in character all night, channeling Marie Antoinette or Alexander the Great -- this sign probably thinks of themselves as royalty anyway, so they're likely to play the part more than convincingly.
Virgo (August 23 - September 22)
A Virgo knows that the essentials to any good party are food, beverages and decorations. They aren't likely to go overboard, but they will be well-stocked. They're also excellent party planners, knowing that costume contests and karaoke are more crowd-pleasing activities than standing around the punch bowl. Expect a standard Halloween bash from this sign -- but with the right pacing, enough activities and plenty of healthy snacks mixed in with expected fright-night fare.
Libra (September 23 - October 22)
Libras are extra-sensitive to the needs of others, wanting to please as many people as possible. This sign is the least likely to impose a costume rule, understanding that not everyone is comfortable dressing up. Instead, a Libra would be a likely proponent of a costume optional party. Or, for a fun twist, they could throw a "Dress Up From the Neck Up" bash -- where attendees could show up in something as simple as a baseball hat, or could go all out with face paints, fake eyelashes and wigs.
Scorpio (October 23 - November 21)
Scorpios love a theme party (the darker the theme, the better), and Halloween is most likely their favorite night of the year. These folks have a twisted sense of humor, so they might urge you to come dressed as your favorite horror movie character. Don't skimp on the sex appeal with your costume, either -- this sign is as sexy as it is dark. Expect your host to show up at the door dressed like Elvira or the title character from The Crow, and expect a night full of surprises!
Sagittarius (November 22 - December 21)
This sign loves adventure, so expect that theme to be featured strongly in their Halloween bash. A typical Sagittarius party might include a suggestion to come dressed as your favorite action-adventure hero (think Indiana Jones or Lara Croft), a spooky scavenger hunt around the neighborhood or an expedition to a nearby rumored real-life haunted house or cemetery. Any party thrown by this sign is sure to be an adrenaline-packed undertaking.
Capricorn (December 22 - January 19)
Goats work hard all week, and they like their leisure time to be, well, leisurely. Expect a no-frills affair for Halloween -- a few close friends, a case of beer, popcorn and a Nightmare on Elm Street movie marathon. These folks won't insist that you dress up for the big night, but they won't mock you if you do, either. Expect a chill night will good friends, good conversation, some "Gotcha!" moments and a lot of laughter.
Aquarius (January 20 - February 18)
This sign loves their sci-fi, so expect a space-age theme for their Halloween bash. Think robots, aliens and technology. This sign also loves working as a team, so a Best Group Costume contest will probably be on the menu, along with the edible alien eyeballs (peeled grapes soaked in food coloring) and toxic punch (a bright green tart concoction). So grab your friends, dress up as a group of George Romero's zombies and join in the fun!
Pisces (February 19 - March 20)
This sign is symbolized by the Fish, and they love all things water-related. Expect an "Under the Sea" Halloween theme, complete with mermaids, water gods and sea creatures. This sign will also go all out, transforming their space into a dreamy, underwater kingdom. For snacks, it's a sure bet there will be a bowl of Swedish Fish, and the punch will surely be something blue or green with some oceanic surprises inside.
Save the fright for Halloween Night! Get insight with a Celtic Cross Tarot Reading from Tarot.com.