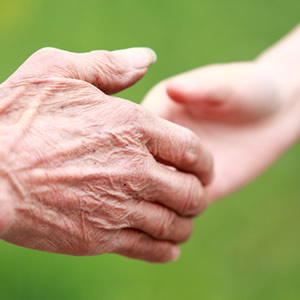 Everyone needs a helping hand from time to time, right? In honor of World AIDS Day, on December 1, let's take a look at how every horoscope sign has special gifts to counsel, help and heal.
If you're having a hard time, or would like to support someone who is experiencing difficulty, explore the following list. You'll learn which signs can lend the kind of support you need, as well as your own power to comfort. Remember, we're all in this together!
Don't forget to leave us a comment and tell us: What do YOU do to lend a hand?
Aries (March 21 - April 19)
Aries tends to lend support by banding together with friends and groups to compare notes. When someone is in trouble, you always know the right doctor, stylist, contractor or support group to bring relief. If you join an organization, you're often asked to take the helm, thanks to Aries' strength in leadership. The Ram knows how to motivate people with inspiring words and bold actions. You don't wait around to bring aid; you ride to the rescue at the first sign of trouble.
Taurus (April 20 - May 20)
Unconditional love is your preferred recipe for support. People tend to come to you with their most shameful secrets and problems, knowing you won't judge. When dealing with prideful people, the Bull tends to lend support anonymously. An envelope of cash to an out-of-work neighbor, a cart of groceries for a hungry family or an inspirational book left on a colleague's desk is the kind of gesture a Taurus likes to make. Often, you'll pray for those who seem heartsick or depressed, unbeknownst to them.
Gemini (May 21 - June 20)
Gemini takes the direct approach to people in need. If you know a friend needs a job, you'll put in a good word for him or her with your employer. A relative with health problems may receive a gift basket of homemade soup, bath salts and homeopathic remedies. A neighbor that has recently lost a pet will be invited on a drive that culminates at an animal shelter. You don't wait for the grass to grow under your feet when it comes to lending aid -- you move with lightning speed.
Cancer (June 21 - July 22)
Providing a safe haven for those in need is a Cancer's favorite way of lending help. You're the type who likes charities that help people in practical ways, like building houses for low-income families and training unemployed people for steady jobs. If a relative has domestic trouble, you'll open your home to them until things get sorted out. You're not stingy when it comes to your possessions, either; if you know a friend whose car has broken down, you'll share yours. Crabs lend support by providing material comfort.
Leo (July 23 - Aug 22)
Generous and loving, you Lions lend support by offering a shoulder to cry upon. You can listen for hours to someone's problems, occasionally offering advice or just murmuring words of comfort. Lending inspirational books from your extensive library is typical of the Leo brand of help. When things get tense, you'll tell a few jokes and funny stories to bring perspective to the situation. A big believer in keeping busy as a means to ward off depression, you think nothing of whisking a friend off on a mini break as a means to forget their troubles.
Virgo (Aug 23 - Sept 22)
At the first sign of trouble, Virgo is there to shower a loved one with tender loving care. Soothing words, comfort food and fragrant flowers are your favorite offerings to a friend in need. You're a big believer in the healing power of animals, and will often invite a sad person to spend time with your pets as a means to process their grief. If you're dealing with someone who is suffering from a serious depression, you'll prompt them to take the day off work and engage in childish pursuits like going to an amusement park together.
Libra (Sept 23 - Oct 22)
Libra can't bear to see someone moping around, and will do everything possible to bring joy back into their life. Taking a loved one out to drink, dance and dine their troubles away is your favorite form of help. You'll also rent funny movies and compile a CD of inspirational songs as a means to cheer up a friend. When all else fails, a festive shopping spree usually lightens things up. Your preferred mode of support is to bring levity to those in need.
Scorpio (Oct 23 - Nov 21)
When a loved one is in need, Scorpio finds ways to be of service. Bringing hot meals to a sick friend, mowing the lawn of an incapacitated neighbor or running errands for a harried parent are among your favorite ways to help. If you hear someone develops an illness, you'll do lots of research on the best treatments for their condition, then compile a list of health professionals that specialize in the problem. Driving sick or elderly people to and from doctor's appointments is also the practical kind of help the Scorpion likes to provide.
Sagittarius (Nov 22 - Dec 21)
Giving even-handed advice to people in need is Sagittarius' favorite form of support. You've always been a good listener and a keen observer of human behavior. Lending insight to difficult problems suits the Archer's philosophical style. You're also a big believer in community, and refuse to let a depressed person isolate themselves from the crowd. Arranging group outings and impromptu get-togethers comes naturally to you. The healing power of music has also helped you through difficult times, so you'll often send some of your favorite tunes to people in need.
Capricorn (Dec 22 - Jan 19)
When someone you know is in trouble, you'll focus all of your energy on relieving their pain. Often, Capricorn will take tastes into account, crafting a strategy around the person's likes and dislikes. You're not the type to ignore the elephant in the room; if you sense a friend is going through a hard time, you'll ask what's bothering them and continue to question them until you get an honest answer. You don't shy away from taboo subjects and often confide your deepest secrets as means to get a friend to open up.
Aquarius (Jan 20 - Feb 18)
If trouble comes knocking, Aquarius becomes philosophical. You'll invite a depressed friend to look at the big picture, encouraging them to assess their blessings as well as their burdens. You'll be brutally honest in relating your view of the situation, even if it means labeling the victim co-dependent or deluded. When faced with a very serious problem, you'll take a loved one away to a remote area where they can get a change of scenery. You're a big believer in treating sickness -- whether emotional, financial or spiritual -- as a learning opportunity.
Pisces (Feb 19 - March 20)
An old soul like you is no stranger to sorrow. When a loved one comes to you with a problem, Pisces takes a long view of the situation. You'll explore how this situation is a symptom of larger trends within the person's life, and propose spiritual solutions. Often, you'll give a depressed or sick friend a journal as a means to express their emotions. You're a big believer in the healing power of art, too, and may suggest someone take up knitting, baking or woodwork as a way to work through their grief.
Get more insight with a Life Cycle Tarot Reading from Tarot.com.