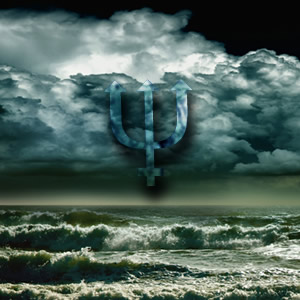 Neptune, ruler of the oceans, entered watery Pisces for the first time since 1862 this week, and faster than we can say "Holy Hurricanes!" a report follows predicting the Atlantic basin will be hit with a higher number of hurricanes this year.
Coincidence? Or is mighty Neptune making his presence known by stirring up more ocean storms? Let's look at the facts:
USA Today reports that the Colorado State University forecast team is predicting 16 named tropical storms this year in the Atlantic basin, which includes the Caribbean and the Gulf of Mexico. Five of these are expected to be major hurricanes, and they say it's due in part to unusually warm water in the ocean.
Neptune will be in Pisces until August 4 (the middle of hurricane season), then it will retrograde back into Aquarius (an Air sign in spite of its water-bearer symbol) until it returns to Pisces for a 13-year stay in February of 2012.
We spoke to our Master Astrologer Jeff Jawer to find out if the higher than average hurricane activity can be linked to Neptune in Pisces, and the good news is… no!
While Neptune is the all-mighty ruler of the oceans, its transit in peaceful Pisces is more about compassion and spirituality, which more likely to deliver calm and caring energy than rough tropical storms.
"While Neptune in Pisces is a very watery symbol that could, in theory, be associated with excessive water, there's no evidence of this being a historical pattern for this transit," Jawer said. "In fact, there's a famous old story about the entry of several planets in Pisces that led to forecasts of flooding that didn't come true."
That's the straight-up cosmic scoop! But even if Astrology isn't predicting more hurricanes, the weather folks are -- so think twice before booking that Caribbean vacation this summer.
If you like what you see on dailyhoroscope.com, please consider following us on Facebook and Twitter.