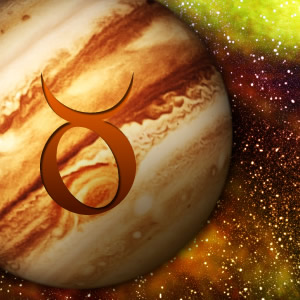 Giant Jupiter moved into Taurus on Saturday, June 4 for a year-long stay, serving up a philosophy of ease and enjoyment that reminds us that we don't have to struggle to be happy. Jupiter's long transit in pleasure-loving Taurus will last until June 11, 2012, and during this time we can enjoy a certain number of gifts from the lucky planet.
One key date to watch for is Wednesday, November 16, 2011, when action planet Mars makes an energetic trine to Jupiter that makes us believe anything is possible. We'll have plenty of good luck and enthusiasm surrounding our long-term goals this day.
You'll also want to keep watch as Jupiter goes retrograde from August 30 to December 25, inspiring us to slow down and look inward for answers to life's big questions.
Jupiter is a planet of beliefs or philosophy, associated with religion and higher truths as well as real world opportunities. Under its Taurus influence -- and depending on how this transit affects the planets in your chart -- you could develop some solid business sense and may be a real money magnet. Jupiter in Taurus inspires us to work hard and strive for real results, and it gives us the confidence and optimistic outlook we need to succeed.
Work in areas that concern the environment is especially favored while Jupiter is in earthy Taurus, so you may find yourself paying more attention to eco-friendly job prospects, like sustainable energy or fighting pollution. Any type of work that protects the earth or the environment will be rewarded with meaningful results.
With this transit, we'll also delight in nature -- and nurture. Nurturing our appetites, that is. We'll want to enjoy the great outdoors and take pleasure in our senses, indulging in food and drink and sensual pleasures. In fact, we may indulge in these things too much!
But that's ok, we should enjoy it while it lasts – Jupiter won't be in Taurus again until May of 2023!
Find out what lucky planet Jupiter has in store for you with a Karmic Lesson Tarot Reading from Tarot.com!