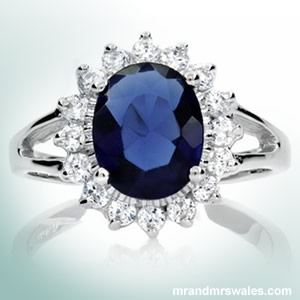 All eyes may be on the Royal Wedding, but we here at DH have set our gaze on the royal wedding ring, handed down from the late Princess Diana to Prince William's bride Kate Middleton. It makes us wonder, can objects carry good or bad Karma from owner to owner?
Most of us are familiar with Princess Diana's brilliant blue sapphire and diamond engagement ring. But as charming and charitable a woman as Diana was, her life was filled with much sadness and ended tragically.
Now that Prince William has given Kate his mother's engagement ring, let's be honest -- if energy can attach itself to an object, would you want 18 carats worth of negativity on your finger? Or would Diana's warm Cancer heart fill the ring with enough positive energy to trump the negative?
We all have family heirlooms and sentimental items we wouldn't part with no matter their history. But many also feel the need to get new furniture after a divorce, or hold on to a sentimental piece of jewelry from a former flame. And whether or not we can feel the energy in these objects so full of meaning and history, it's more important how we choose to deal with it.
There's no way to prove whether or not an object can carry the good or bad Karma from one owner to the next. It's intangible, which means it becomes a matter of perspective and attitude. And as always, a positive attitude can turn bad Karma good in a loving heartbeat.
The challenge, then, is to either let go of objects that inspire negative emotions, or learn to move forward with these objects in our lives while letting go of any bad Karma associated with them. For example, reupholster that couch you shared with your ex. And remember the happy times associated with sentimental jewelry.
Of course, how to proceed is ultimately up to you. And in Kate's case, if she decides she'd be better off not wearing Diana's engagement ring, she can always wear this candy replica of the royal ring to start her marriage with a clean Karmic slate.
Do you own any items you think may carry bad or good Karma?
If you like what you see on DailyHoroscope.com, please consider following us on Facebook and Twitter.