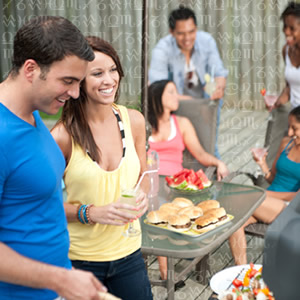 On the first Monday of September we celebrate Labor Day -- a national holiday that originally began as a way to honor the hard work of labor unions, but which now has become a general holiday for the workforce. As we wave goodbye to summer, your day off may find you relaxing at home or joining the masses at a parade or party.
However you decide to celebrate, your horoscope sign provides insight into the best way to enjoy your Labor Day.
Aries (March 21 - April 19)
Labor Day marks the beginning of fall sports, which is especially exciting for the strong and active Aries. Rather than watching the big game on TV, challenge your friends to a game of pick-up football -- and since Aries love being the leader, make sure you're the captain.
Taurus (April 20 - May 20)
You work hard during the week so that you can indulge over the weekend. Be sure to take advantage of your extra day off with the many Labor Day sales, and treat yourself to what makes you happy outside of work -- be it a nice meal or that flat-screen TV you've been eyeing.
Gemini (May 21 - June 20)
As a Gemini, your tendency to multi-task at work often leaves your personal life in need of catching up. Take advantage of Labor Day by running errands and spending time with friends and family, but don't forget to make time to relax.
Cancer (June 21 - July 22)
For a Cancer, nothing is more comforting during special holidays than spending time at home with family. Cozy up and watch the Labor Day parades in your living room, and cook a big family dinner.
Leo (July 23 - Aug 22)
A holiday is the perfect time to let your inner Lion roar. Leos are dramatic and festive -- celebrate and emphasize those qualities by throwing a Labor Day-themed party, and don't forget to make a special toast before your attendees in honor of the day.
Virgo (Aug 23 - Sept 22)
As the service-oriented zodiac sign, you value the strong ideals of what Labor Day truly means. Volunteer at a local rally or attend a Labor Day event hosted by a political organization to learn more about the day and how you can get involved.
Libra (Sept 23 - Oct 22)
Even if you don't work in an art-related field, you value the arts. As the zodiac sign of justice, you also empathize with the origins of Labor Day and the workers who fought for what the holiday stands for. Attend a public art event at a gallery or museum with exhibits related to the holiday -- the perfect combination for a Libra.
Scorpio (Oct 23 - Nov 21)
There are a few options for Scorpios and their thrill-seeking urges that can't be satisfied during the work or school week. Enjoy your day riding roller coasters at an amusement park or by taking to the open waters with water-skiing and rafting.
Sagittarius (Nov 22 - Dec 21)
As the zodiac sign of exploration, open spaces are what you truly crave. Labor Day is the perfect excuse for a fun adventure. Go to the park for a holiday picnic, go hiking along a trail or take a day trip and explore a new town.
Capricorn (Dec 22 - Jan 19)
Capricorns are workaholics at heart, and just because you have the day off doesn't mean you won't want to get some work done from home. Keep your laptop close, but don't shy away from leaving the house and getting together with others -- you may network and make some good connections!
Aquarius (Jan 20 - Feb 18)
For you, community and humanitarianism are what it's all about, which makes Labor Day that much more special. Organize a neighborhood block party or barbeque to meet with friends old and new.
Pisces (Feb 19 - March 20)
Always the dreamer, Pisces should take the day off as an opportunity to spend some alone time by relaxing, meditating or reading. It will be therapeutic for you, and will help you re-charge for the full week ahead.