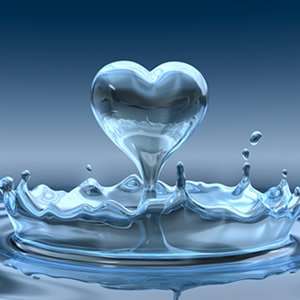 When the Sun moves into Capricorn on Dec. 22, winter will begin! For lovers, this season will be particularly intriguing. Since the first things the Sun does once it's in the sign of the Goat are to meet up with the generous opportunities of Jupiter and the unexpected events brought by the erratic planet Uranus, expect love spell EXCITEMENT. Read your sign's horoscope to see just how easy it's going to be to stay warm despite the brisk winds and icy chill.
Aries (March 21 - April 19)
Has it been all that bad having the restrictions and cold-shoulder feelings of Saturn in your 7th House of Relationships? Probably -- but your prospects for romantic happiness continuously improve as you monitor your reactions to the person that matters most to you. Finally, you no longer feel like it's all or nothing, and you're far more capable of making a rational choice about what feels right, what needs to be fixed, and whether you should be involved at all. If you're looking for love, this could be quite beneficial! If you're in a relationship, you can still like it, because Saturn's discipline forces your relationship to grow into a more deeply satisfying state of mutual respect. A lurch forward becomes possible when Saturn goes retrograde Feb. 7.
Taurus (April 20 - May 20)
You probably feel even luckier than usual with Jupiter in your sign, and when it goes direct on Dec. 25, plan to celebrate a whole new cycle of loving yourself and enjoying life with someone who's quite special. Pluto's presence in your 5th House of Dating and Enjoyment could provoke many meetings and lots of positive changes. The trick will be to balance out your life by remembering there's work to be done as well. If you're out on the dating scene or ready to come out of the rut you and your lover have been in for some time, the magical connection between Jupiter and Pluto on March 13 will create opportunities to transform your definition of fun.
Gemini (May 21 - June 20)
Who ever thought you'd be spending so much time fussing with family and domestic concerns? You'd much rather be cooing with your lover, running around town and kicking up the snow. A nasty and long-lived visit from Mars to your 4th House of Home and Security could make it difficult to view your domicile as a haven. Not only could relatives act up and drive you crazy; your physical home could also become home improvement hell. Mars will go retrograde on Jan. 23, so anything you sweep under the rug won't stay there for long. Deal with all the things that might need to be fixed in your home, and reconsider any decision to share a home with someone you love before you're truly ready.
Cancer (June 21 - July 22)
You'll be ready to jump into the spirit of love and make snow angels this winter, Cancer! The minute the Sun moves into Capricorn, it also arrives in your 7th House of Partnerships. If you're already set in a relationship, this means you'll be hovering over your very happy lover, starting with the holidays and going all the way through most of January in a high state of relationship bliss. If you're single, the Sun's energy could bring on a new connection that has the heart-to-heart quality about it that you crave. Then on Jan. 20, the Sun moves on to your 8th House of Sex and Sharing! You'll be ready for action that most people only dream about -- and the one you're with will be treated to the most sensuous lovemaking imaginable.
Leo (July 23 - Aug. 22)
Winter starts with a special treat for you, Leo! A visit from Venus, the goddess of love, to your 7th House of One-on-One Connections will prime your life for love. If you're already attached, your lover will be extra attentive and tender, and ready to comply with your every desire. If you're not with someone yet, the arrival of a new prospect could put that Cheshire Cat smile on your face and put a steamy spin on those long, chilly nights. The time around the New Moon in Aquarius on Jan. 23 will be excellent for starting a new relationship, or commemorating your commitment in some way. Love, loyalty and happiness are always worth a celebration. Seriously, do you really need any excuses?
Virgo (Aug. 23 - Sept. 22)
Yes, you try to make everyone believe your life is in order at all times, and you've always got your head about you. Well look out, because this winter, love is bound to sweep you off your feet one way or another! As Neptune moves into Pisces and your 7th House of Partnership on Feb. 3, your logic and discrimination could be occluded by this mighty (if flighty) planet's influence. Things aren't what they seem when it comes to your perception of others, so test out your observations before making big decisions, either in favor of or against making a commitment. Venus' move into Aries and your 8th House of Sex on Feb. 8, combined with Mercury's move into Pisces and your 7th house on Feb. 13 should help you create a wildly romantic Valentine's Day.
See what will happen with your love life this winter! Get a Love Celtic Cross Tarot Reading from Tarot.com!