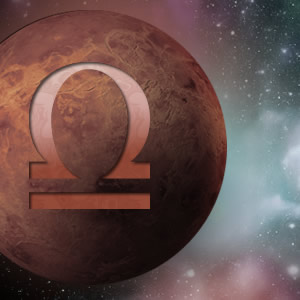 Amorous Venus, the planet of love and pleasure, comes home to Libra on October 14, 2017. This is a naturally compatible combination as Venus is the ruling or key planet of this horoscope sign. Dialogue, negotiation and relationships are highly valued now.
Venus in Libra generally promotes the arts and appreciates beauty. Politeness counts more and sensitivity to the balance in partnerships is heightened. This is a time when we can become more aware of the give and take that are natural elements of relationships.
An increased desire to find agreement readily leads to compromise at this time. It's vital, though, that you consider what you really want before sacrificing it for peace. Harmony is desirable, but not if you must sacrifice your real needs and desires for it. The appearance of peace can be costly if it masks inner disappointment.
Romantic love grows in importance, too. Being in love with love can be such a delicious feeling. This, of course, opens the door to illusion and projecting too much importance upon others. Just be fair to yourself in the process. Don't sell yourself short in your desire to gain the approval of another person. Fairness includes an honest assessment and appreciation of your own gifts. Intimacy grows in an atmosphere of mutual interest and respect.