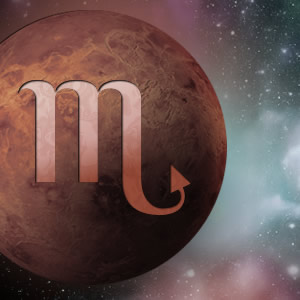 Love planet Venus has spent a nice relationship-oriented stint in lovely Libra, but now she'll make a steamy move through sexy Scorpio from November 7 - December 1, 2017. When Venus enters passionate, intimate Scorpio, you can bet that relationships -- romantic ones, especially -- will feel the heat in more ways than one.
The deeper you go in love during this time, the better, as Scorpio tasks you with getting to the root of your relationship.
Scorpio is the detective, so secrets and suspicions will be the first to come into question. As your more feminine emotions become heightened, Venus in Scorpio helps to reveal what it is you want -- and the answers you'll be left with will determine your thoughts and future actions.
Sounds pretty heavy, right? But that's what it's all about -- everything is richer during this period -- you'll actively seek out deep affection, understanding through communication and romantic guidance that can either light the way toward a lifetime of loyalty and commitment, or send you down a dark path of jealousy and mistrust that can destroy a partnership.
No matter which way you turn, the theme of Venus in Scorpio is intimacy, intimacy, intimacy. The key is to first be able to get down to your own desires and what (and who) you really want, so that when you do come together with a partner, it's make, not break.