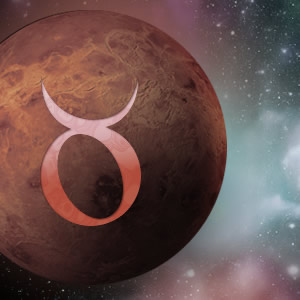 Matters of the heart are a mystery, but looking to passion planet Venus can give us a few clues! Tracking which horoscope sign this loving planet is in allows you to find out which cosmic factors are influencing you and your romantic interest. Venus enters into Taurus on June 6, 2017 where she'll spend four weeks getting cozy in her home sign.
We're just coming off of an Aries era of amore, so restlessness in relationships gets replaced with the slower, simpler pleasures of touch, taste and beauty -- and we're not just talking about cuddling up by the fire!
Venus rules over two horoscope signs. The first, gorgeous, graceful Libra, seeks balance and looks to forge tight partnerships. In other words, Libra represents the Venus "goddess" stereotype. Meanwhile, grounded Taurus represents Venus' "earthy" side, the one that loves to have all senses entertained. Although this isn't a sign known for taking a casual attitude toward sex, reserved Taurus is lusty in a mellow way. It appreciates the finer things in life: good food, good drinks, good scenery and, yes, attractive people! While Libra represents the sacrifice needed to strike a balance between two partners, Taurus demonstrates Venus' more tactile delights -- and represents the pleasures two lovers can enjoy together.
After the heady rush of Venus in "Warrior sign" Aries, Taurus' influence will definitely come as a relief! Because it's an Earth sign, Taurus is more slow-moving and steady when it comes to love. And being an Earth sign, Taurus likes clear-cut logic and dislikes the distraction of multiple love interests at once. When Venus is in Taurus, it encourages us to focus on the one person who can be a fun, consistent partner to us.
Dating while Venus is in Taurus means that you're more likely to indulge in rich foods and (weather permitting!) take time to smell the roses while you're enjoying nature, another love of Taurus'. Ultimately, the Venus in Taurus influence encourages us to slow down, live in the moment and find ways to be content in the company of another person. This is a great time to relax with a quality movie (something with great visuals!), a good bottle of wine and plenty of gourmet snacks at hand!
Of course, Venus in any sign brings its own share of specific romantic drawbacks. If you're in a serious relationship -- or on track to making a new connection a committed one -- you'll have to struggle with that notorious Taurean stubbornness more than usual. Compromise is difficult when dealing with the Bull, making it more difficult to make headway or move forward as a couple. And because Taurus can be set in its ways, we'll all feel some internal resistance to opening our hearts and lifestyles in order to welcome another person in. Still, you have to take the stubborn with the sensual!