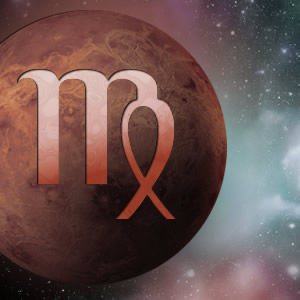 Love planet Venus moves into the practical sign of Virgo on September 19, 2017, significantly changing the tone of romance. We'll move away from the playful Leo energy we've seen for weeks now,as Venus now picks up her relationship tools and goes to work on the nuts and bolts of partnership in analytical Virgo.
Venus in Virgo brings a more discriminating eye to social interactions; a period that's good for refining our moves and cleaning up our acts. Being choosy about who we're with and what we need is at the top of the personal to-do list, even if emotional filters reduce intensity and make the game of love more serious.
Venus is about love and relationships, while Virgo deals with life's more practical matters. So, superifically, this can be interpreted as a period in which passion may give way to the mundane affairs of daily life. However, Virgo's traditionally chaste image is not nearly so virginal as one might expect. It is, after all, an earth sign that appreciates the healthy functions of the human body, including sexuality.
A more balanced view is that Venus in Virgo is a time when pleasure is derived by understanding the fine details of life, be they related to love or work. An appreciation for refinement in the arts, food, nature and people is more likely during this period. This can help further the development of skills and techniques in all areas of creative expression.
In personal relationships Venus in Virgo can correspond with excess criticism. The idea is to take the sharpened perceptions of the moment and apply with a constructive, rather than destructive, attitude. In this way so-called "faults" are not reasons to tear down a person, but to clarify the issues that need attention and adjustment. This positive approach can make this a time in which relationships grow through greater awareness of what makes them tick and, thus, help to iron out the kinks. Passion flows more freely when obstacles are removed. Work makes way for love.