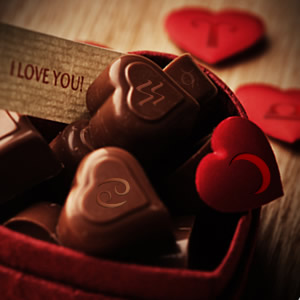 Well, Valentine's Day has passed... but we want to know, was your Valentine's Day horoscope right on? Read on:
Appearances can be deceiving this Valentine's Day. This romantic holiday is about celebrating the joys of love, but serious feelings are stirring beneath the surface this holiday. Flowers, chocolates and other gifts for the senses can't hurt relationships, but they aren't going to push away worries and doubts about sharing our hearts with others.
Venus, the planet of amour, is approaching a stressful 90-degree square with manipulative Pluto, which can undermine trust in our partners and confidence in ourselves.
The most useful gifts we can give now are to honestly express our concerns and to deal kindly with the fears of our partners. This will probably push away superficial smiles for the moment, but it will deepen and strengthen relationships for the future.
See the predictions for your horoscope sign this Valentine's Day:
Aries (March 21 - April 19)
It's the little things that count this year as your usually passionate ruling planet Mars is struck in reverse. This can make you nostalgic for the past, but you're better served by dealing with details in the present. Doing something useful is a great way to celebrate this holiday with Mars in pragmatic Virgo. Instead of indulging yourself with dining and dancing, why not make this a day to serve others? This probably doesn't sound romantic, but it demonstrates your generosity and compassion. Helping someone as a volunteer, friend or family member will bring a level of satisfaction that makes you feel worthy of love, enabling you to give and receive it more freely.
Taurus (April 20 - May 20)
The sweet side of Valentine's Day fits your sensual nature. The sweet smell of flowers and the taste of chocolate bring out the cuddly side of your personality. Yet there may be something off this year as you find it hard to settle down and enjoy the special day. The romance V-day represents is clouded by a stressful relationship between amorous Venus and provocative Pluto. Teasing, mistrust, jealousy or self-doubt might darken your mood. If you have a partner, seek a quiet, out-of-the-way place where you can talk about intimate matters. If you're single, it's better to be alone or with someone you trust than to seek romance under risky circumstances.
Gemini (May 21 - June 20)
Valentine's Day may start out on a sobering note as the mood-setting Scorpio Moon is in your 6th House of Adjustments until early evening -- but that's when the fun begins. A lunar shift into outgoing Sagittarius lights up your 7th House of Partners, inviting you to play loud and hard with an adventurous individual. However, you could be with a person who is feeling a little insecure, which doesn't go along with your high spirits. Recognizing that another person might not be feeling all that playful is important if you want to gain his or her trust. Don't take wounded emotions lightly, even if you don't think the issue in question is all that important.
Cancer (June 21 - July 22)
The sentimental feelings evoked on Valentine's Day are mixed with some complications this holiday. The journey begins with the Moon in passionate Scorpio and your 5th House of Romance, which sounds like a perfect formula for getting the intimacy you desire. There's a shift in the evening, though, with a lunar entry into raucous Sagittarius that can be somewhat less than tender. Insensitive remarks might provoke uncomfortable feelings. If they do, speak up firmly but gently instead of smiling while steaming on the inside. Trust requires truth, even if what's being said doesn't fit the ideal hearts and flowers model of Valentine's Day. Dealing with reality, though, is a key to making love last.
Leo (July 23 - Aug. 22)
The daylight hours may present you with some challenges as plans grow complicated and emotions may be rubbed raw. Jealousy or resentment can take the shine off this holiday's celebration of love. Fortunately, a lunar transit into enthusiastic Sagittarius and your 5th House of Romance in the evening can turn the tides in a more desirable direction. The playful and generous side of your personality should shine and make it easy for you to have a great time. However, a sensitive person might react with jealousy, mistrust or simply be in a sour mood. Finding the balance between the joy you're seeking and the vulnerability of this person is a challenge best met with kindness and a gentle sense of humor.
Virgo (Aug. 23 - Sept. 22)
Try to keep things simple today because passionate Mars is still moving backward in your sign. Returning to a place or activity where you've experienced pleasure in the past is one way to use this otherwise complicated transit. Just keeps things simple so you can limit stress and have a good time. Reconnecting with someone you haven't seen in awhile is another way to celebrate this holiday. It's possible you'll encounter loud or rude individuals in the evening. Do your best to get into the spirit of fun rather than allowing a raucous person to dampen your spirit. You might also plan for a quiet evening out or just stay home to find more peaceful forms of pleasure.
Get more Valentine's Day insight with a Love Celtic Cross Tarot Reading from Tarot.com!