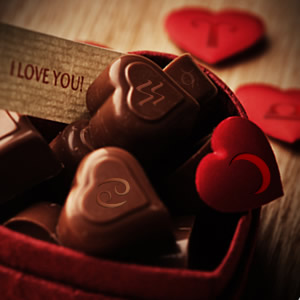 Libra (Sept. 23 - Oct. 22)
Your romantic taste tends toward the sweet side, which is what Valentine's Day is supposed to be about. Yet there are powerful emotions in relationships today that tear away the façade of politeness to get down to deeper personal issues. Your alluring ruling planet Venus is heading toward an entanglement with dark Pluto, arousing control issues, jealousy or bringing hidden issues to the surface. Passion is part of the package, and if you're willing to address uncomfortable feelings, you can turn a problem into an opportunity to get closer. The key is to be honest with yourself and then to express your desires without getting sidetracked with resentment or by focusing on the past.
Scorpio (Oct. 23 - Nov. 21)
Passion is pulsing as you seek satisfaction on deeper levels than you'll find on any Valentine's Day card. The day starts with the Moon in your intense sign, raising the stakes in the game of love. You're not into flirting or playing with people who aren't willing to commit to full-contact romance. Amorous Venus clashes with your potent ruling planet Pluto now, intensifying relationships with greater desire, but also threatening them with secrecy, jealousy and control issues. This atmosphere isn't ideal for light-hearted activities, but it could spur you to push the limits with a partner. Just do it gently so you don't go too far and wind up creating a crisis.
Sagittarius (Nov. 22 - Dec. 21)
Keeping a positive attitude is one of your strong points and a good skill to have today. That's because there are some gray skies on what's supposed to be a day to celebrate love. It starts with the Moon in shadowy Scorpio and your secretive 12th House, which may not put you in the most playful of moods. You might be happier sitting this one out or spending time in a quiet place with an undemanding person. A lunar shift into your sign would normally brighten up the evening, and it might. However, amorous Venus is bumping up against manipulative Pluto and you are not someone who likes to be controlled. If you're dissatisfied with your partner, be honest but careful with your words.
Capricorn (Dec. 22 - Jan. 19)
Knowing what you want is one of your strengths, but knowing what (and who) you don't want is equally important today. Sure, the holiday is supposed to be a celebration of love, filled with flowers, chocolates and romance. But it isn't exactly that kind of day. This Valentine's Day is better suited to talking about serious emotional issues with a friend than acting like a teenager in love. The good news is that you may be ready to discuss some difficult issues. This isn't fun, but it can be incredibly productive to cleaning up unresolved issues that frustrate you in a current partnership or in pursuit of a new one. If you do play now, it could get serious so avoid becoming overly competitive.
Aquarius (Jan. 20 - Feb. 18)
The idea of love is a wonderful thing, and something you can believe in fully. Yet the concept may not live up to reality on this year's complicated holiday. The primary issue is that Venus, the planet of amour, is tangling with Pluto, the dark lord of the underworld. This can provoke some complications that deflate the spirit of the day. But instead of trying to float above uncomfortable feelings, it's an appropriate time to dig in deeply and reflect on your desires. If they're not being met with your current partner or as a single person, a private conversation with someone you trust can help you move toward fulfilling your needs.
Pisces (Feb. 19 - March 20)
Even a romantic person like you can recognize that this Valentine's Day is more about digging deeper emotionally than an easy-breezy time for relationships. Being appreciated is a major issue, with validating Venus in your 2nd House of Self-worth bumping into scrutinizing Pluto. You probably can't gloss over uncomfortable issues, such as being disrespected or ignored. It's not pretty when discontent surfaces, but it's a heck of a lot healthier than repressing your feelings. The keys are in recognizing that you deserve love and affection without struggling for it, and that you're not a victim. Getting what you want starts with eliminating whatever behavior and beliefs get in the way of making sure you're treated fairly.
Get more Valentine's Day insight with a Love Celtic Cross Tarot Reading from Tarot.com!