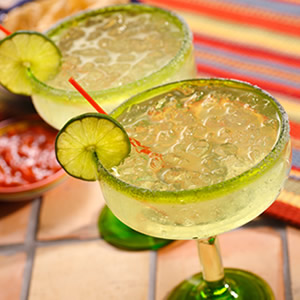 Need a fun way to celebrate Cinco de Mayo this May 5? We may not all speak Spanish, but we do all speak the universal language of the margarita! Whip up a margarita custom made for your horoscope sign!

Aries (March 21 - April 19)
Chili Margarita
Fire sign Aries always enjoys taking risks and thrives on exciting new adventures, unmet challenges and being the best at whatever they do. So what better way to make a bold Aries statement than by drinking a margarita that has a little spicy heat? The Chili Margarita warms up the fiery Aries palate with just a hint of jalapeno pepper added to the mix.
Taurus (April 20 - May 20)
Chocolate Margarita
Sensual Taurus thrives on rich, deep flavors, and loves to indulge all of their senses. So with this big appetite for pleasure, Taurus revels in lush, over-the-top concoctions. The Chocolate Margarita combines the best of all worlds, pairing chocolate liqueur with the naturally delicious flavor of a margarita for a drink that is sweet, rich and intoxicating at the same time.
Gemini (May 21 - June 20)
Strawberry Mango Margarita
As a sign that is constantly trying to learn and have new and different experiences, Gemini has a hard time choosing just one option. The Strawberry Mango Margarita allows Gemini to explore the mixture of two different flavors, providing a taste experience that is multi-faceted and unique. Gemini will also appreciate the fusion of colors that the bright strawberries and mangos create when blended.
Cancer (June 21 - July 22)
Jell-O Margarita
Cancer has the heart of a child and enjoys reminiscing about their many memories of experiences from their youth. As a sign that loves to eat, indulging in foods and drinks from childhood is one of Cancer's most pleasurable pastimes. The Jell-O Margarita allows Cancer to combine their childhood memories with adulthood pleasures. What could be better for a Cancer than a margarita infused with the familiar flavor of Jell-O?
Leo (July 23 - August 22)
Gold Margarita
Leo is all about luxury, glamour and pretty, bright things. This love of bling even extends to their taste in drinks! Exclusive, special and flavored with gold liqueur, the Gold Margarita is the perfect drink to make Leo shine and stand out from the crowd. Providing just that touch of royalty that Leo loves, the Gold Margarita is a warm and sunny drink designed for this sign that is ruled by the Sun.
Virgo (August 23 - September 22)
Frozen Virgin Margarita
Known as the sign of the Virgin, Virgo is both health-conscious and concerned with staying fit and free from toxins. The Frozen Virgin Margarita contains no alcohol, just fruit and ice, allowing Virgo to indulge without the negative after effects. This margarita will also provide Virgo with one of their 5-a-day fruit servings, making them feel even more virtuous and pure.
Libra (September 23 - October 22)
Le Margarita des Artistes
As a lover of grace and beauty, Libra is truly the sign of the artist. Appreciating everything that is pleasing to the eye, Libra thrives on balance and harmony. Le Margarita des Artistes is the margarita for artists. Combining the perfect combination of flavors and colors, this margarita contains a balance of sweet and sour with a touch of added orange juice to provide a bit more flavor.
Scorpio (October 23 - November 21)
Hypnotiq Margarita
Scorpio is mysterious, magnetic and intriguing, with a desire for intensity and a passion for all that is hidden and underground. The Hypnotiq Margarita, made with Hypnotiq liquor, has a complex blend of flavors that is alluring and appealing at the same time. This smoky drink also has an unusual and hypnotic blue shimmer to it, a color that is difficult for Scorpio to resist.
Sagittarius (November 22 - December 21)
Italian Margarita
As the sign of the gypsy explorer, Sagittarius loves to mix different cultures and diverse experiences. Confident, expansive and good-natured, Sagittarius is up for anything. The Italian Margarita is perfect for Sagittarius, as it blends the traditional Mexican margarita with a hint of Italian amaretto to provide a unique taste all its own. This robust mix of flavors should please and excite even the most adventurous palate of the Sagittarius nature.
Capricorn (December 22 - January 19)
Original Margarita
Traditional, conservative and by-the-book, Capricorn is a sign that appreciates consistency and quality rather than experimentation and fads. The basic Original Margarita is perfect for the Capricorn nature, which would rather stick to the basic tried-and-true than to seek out something different and unusual. A high-quality tequila and the perfect measurement of ingredients will please Capricorn more than any new margarita flavor combination.
Aquarius (January 20 - February 18)
Electric Margarita
Unusual, unexpected and just a little bit weird, Aquarius always wants to do things differently than everyone else. As the sign that rules electricity, Aquarius also likes to stir things up. What better way to do this than by drinking the Electric Margarita? The cool blue flavor of Blue Curacao provides an airy flavor that is just as unique as the zany Aquarius personality.
Pisces (February 19 - March 20)
Blue Lagoon Margarita
Like the ocean that Pisces rules over, this sign is mystical, magical and somewhat elusive. Pisces loves to drift and dream without restraint, disappearing from sight unexpectedly. The Blue Lagoon Margarita combines the delicious flavor of pineapple juice with the unique taste of gold tequila and a watery blue note of Blue Curacao, making this drink a perfect fantasy for any Pisces to lose itself in.