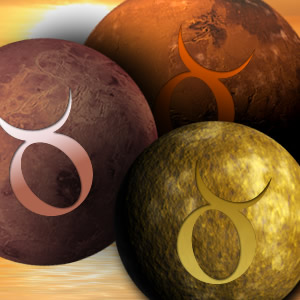 For months we've been hearing about Aries this and Aries that, and the whole world has been nonstop go-go-go thanks to the pileup of planets in fiery Aries. Today, we finally get a breather and begin to feel that frenzied pace slow down as friendly Venus and chatty Mercury join mighty Mars in Taurus. Get ready for one big, cozy planetary pajama party.
With the cluster of planets in Aries breaking up, three key planets move into the slow and steady sign of the Bull. First Mars moved into Taurus on May 11, then Venus into Taurus an hour before Mercury in Taurus on May 15.
With Taurus influencing our planets of action, communication and love, we'll find the overall intensity in our lives settling down -- at least for a few weeks! We won't feel so much pressure to accomplish so much so fast, our words will take on deeper meaning as we stop chatting and start communicating more intimate thoughts, and love can become much more steady and sensual.
This is a time for living in the moment while the moments are so sweet!
The only downside to any of this is that Taurus also brings some inflexible, stubborn energy to the mix, so we'll want to do our best to keep our minds open during this time. If you refrain from becoming too lazy or too rigid, the next few weeks will be a big breath of fresh air.
And guess what? The good news is things will stay this sweet and low key for a while, and will probably even get better when Jupiter joins the Taurus pajama party on June 4.
Read more about what it means for each of these key planets in Taurus:
If you like what you see on DailyHoroscope.com, please consider following us on Facebook and Twitter.