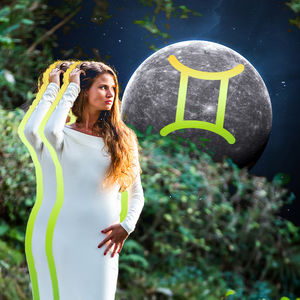 If you start to feel a bit A.D.D. over the next couple of weeks and wonder why your mind is suddenly being pulled in so many directions at once, you can blame one planet and one horoscope sign in particular: Mercury and Gemini -- or more specifically, Mercury IN Gemini.
Messenger planet Mercury moves through speedy Gemini from May 29 - June 12, 2018. Mercury is all about information in the form of facts and ideas and, more to the point, Mercury is all about relaying that information. When it enters one of its two signs, "Mercurial" (or ever-changing) Gemini, this power duo becomes the ultimate channel for information to flow through -- and as a result, you'll feel the rush of thoughts flowing through you at warp speed, no matter what your sign. Electric. Exciting. Right?
Yes ... and no. If, like Gemini, your sign has Air as its element, you're probably comfortable living in your head so to speak (Libra and Aquarius, I'm looking at you!). But if you were hoping Mercury in Gemini might give you the ideas you needed to write that original novel or to come up with the next big innovation, don't set your hopes too high: Your mind will probably be thinking in tangents, never able to follow through with a single thought for too long. One idea might branch off in a dozen directions -- best to keep a voice recorder on hand and revisit these flashes of brilliance later!
No, Mercury in Gemini is not the best time for getting started on solo projects (partly because you'll have to work twice as hard to keep your thoughts focused). But that's no matter, because this is a great time to get out of the house and mingle.
See, Mercury is also big on communicating information, and social butterfly Gemini loves to exchange ideas through conversation.
So, what can you do to fully tap into the power of Mercury in Gemini? We have a couple tips:
Try attending parties where there will be a variety of guests from varying backgrounds. This can stoke the fires of some seriously fascinating conversation.
Go to public talks or seminars or workshops with lively question-and-answer seminars afterward. Absorb what people are saying, then add to the discussion.
Call up your most informed, educated or well-read friend and invite them out for coffee and lively chitchat. Talk will be anything but small!
And don't shy away from discussing politics, either. Gemini is the sign of duality, capable of seeing many sides of an issue at once. That means that even your most opinionated friends might find themselves reconsidering their views -- or at least being open to different perspectives.