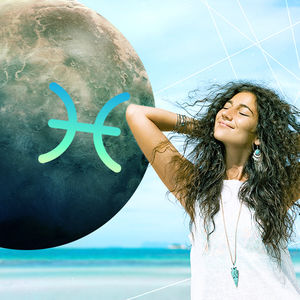 Get ready for some mental meandering as communication planet Mercury moves into dreamy Pisces on February 25, 2017. This will likely inspire our minds to go off-course to places words cannot describe!
This transit serves poets, artists, healers, spiritual seekers and all those who don't rely on objective evidence to shape reality. Facts may grow fuzzy, but conversations will become tender as intuition becomes the most valuable source of information.
This can be a good time to move outside the limits of ordinary perception and speech. The censoring aspects of your mind are looser, allowing a wider, if less precise, picture of reality to emerge. Watch how your intuition and imagination work more easily during this time!
There are some definite cons to Mercury in Pisces, as well. Miscommunication is possible, and you may have trouble staying on track. You might forget critical details, show up late for meetings or say things that don't quite make sense. This is because we're speaking from the heart and gut, not the brain, and finding the words to match feelings can make for some seriously stop-and-start conversation.
But at the same time, Mercury in Pisces has an important lesson for us: We don't need to depend on verbal communication all the time! Sometimes it's beneficial to see beyond the literal, read between the lines and hear the unspoken story under this transit.
Primarily, watery Pisces is about instincts and feelings. So this transit is less about grasping facts and more about fusion and the big picture.
Not surprisingly, there are many musicians born with Mercury in Pisces. They range from the tortured: Kurt Cobain, Andy Gibb to the torturing: Yoko Ono, Alice Cooper to the talented: Celine Dion, Elton John.
The chameleon-like quality of Pisces serves actors John Travolta, Glenn Close, Peter Fonda and James Caan, to name a few. Commentaries by Camille Paglia, Ellen Goodman and George Stephanopoulos reflect Mercury in Pisces' wide range of views and social interests. Similar qualities may be found in fellow Merc in Pisces Ralph Nader, Gloria Steinem and Al Gore.
See what's coming up for you with Rick & Jeff's 30-day Astrology Forecast from Tarot.com.