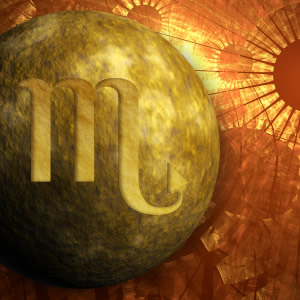 Mental Mercury moves into Scorpio on October 17, 2017, and if not handled properly, suspicion and paranoia may get the best of you!
Communication collides head-on with the dark sign of secrets and privacy during Mercury in Scorpio. As emotions become heightened, it's almost like you never know what you're going to get during this period! Or, that's what you'll assume, at the very least. Honesty will come into question, and you may take on the role of detective (one of Scorpio's archetypes!) while trying to suss out the truth in situations romantic, professional and personal.
This planet of communication gets down to the depths whenever it's in Scorpio. The mind melds with emotions, descending into the body, into the past and into life's mysteries. This can be a very powerful period for talking about difficult issues regarding relationships, money and mortality. Psychological awareness is more acute now, as perceptions take us under the covers of the obvious, seeking hidden meaning and motivations.
The dark side of Mercury in Scorpio is represented by the mistrusting mind, one that holds secrets and fears them at the same time. Communication becomes a means of control, rather than connection. However, seeing our fears doesn't mean that we have to perpetuate them. The opportunities are ripe for discussing heretofore forbidden subjects, resulting in greater degrees of trust and intimacy.
Don't make major promises, but do go over details and double check your sources of information over the next couple of weeks. But most of all, don't let hesitance and doubt lead to paranoia and obsession -- doing so could lead to unnecessary arguments and downfalls in relationships.