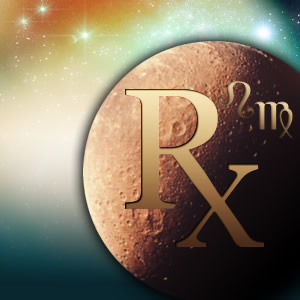 Things have gone smoothly for most of us in many respects this summer, and many would say that's because Mercury has not been retrograde since last spring! Alas, every harbor that looks smooth as glass in the morning can get choppy later in the day, and as the summer season winds down it will do so under Mercury Retrograde from Aug. 2 - 26.
We'll need to prepare as we usually do: back up computer files, successfully upgrade systems and tend to motor vehicles to avoid potential foibles and breakdowns before the actual retrograde takes place.
Because Mercury is in Leo for the bulk of this retrograde period (Aug. 8 - 21), we'll be called upon to revisit the way we stand behind what we believe, think and say. Leo has trouble settling for less than the very best we can muster, so prepare for challenges that push you to be the best person you can be, both in terms of professional performance and personal integrity.
See how Mercury Retrograde in August 2011 will affect YOUR horoscope sign:
Aries (March 21 - April 19)
Life is probably going along well for you right now, but huge planets such as Uranus and Pluto don't leave you with much control over it. That's why you'll be a little disturbed when the things you want to do for fun are harder to achieve than you think they should be. That plan you had for a weekend at the beach with friends from school or an old job could turn out to be faulty when you find out you scheduled it over an event involving your family, children or concert tickets you bought before. Oops! Your best bet is to ask yourself, when faced with too many options, what "fun" really means to you, and then make that your priority. You'll want to do the things that keep that blissful smile plastered across your face as long as possible.
Taurus (April 20 - May 20)
The powers that be seem to think you have a little work to do on a domestic situation. While you may have to refurbish a family relationship or smooth ruffled feathers, or even just dust around the house, this could also involve a home improvement project or real estate deal. Although this is no time to sign on the dotted line, you can make a lot of progress investigating the issues that will make or break a deal. Some people from your distant past could also make an appearance, either while they're visiting their own relatives in your town or as guests in your home. You'll need to enforce whatever houseguest policies you have, of course, but remain open to the idea that there's little else that beats sharing quality time with people who know and share your history.
Gemini (May 21 - June 20)
This could be a particularly tough period for you because communication, transportation and connections -- most of the top starters on your "fun to-do" list -- will be impaired by the temporary absence of Mercury magic. You will need to be vigilant about your commitment to making things work in your life. Your relationship with a brother, sister or perhaps a neighbor could remind you how important it is to consider the way things you say will be interpreted before you let them come out of your mouth. You might also need to apologize for what another person deems to be insensitive. If you work in a field such as IT or public relations, make sure you're fully aware of what your customers want, because you run the risk of sweating hard over something that eventually gets taken back to the drawing board.

Learn more about yourself during Mercury Retrograde with a Numerology Diamond Report from Tarot.com!