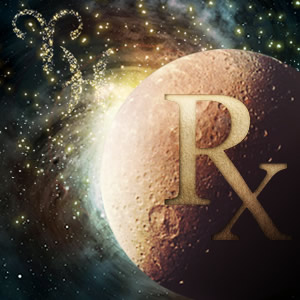 It's once again time to prepare for Mercury Retrograde, and to find ways to put up with it, too. This time, the planet that gives us skills and faculties involving communication, machinery, transportation and electronics will begin its awkward, backward motion at 6 degrees of Aries, and then chug back to 23 degrees of Pisces, from March 12 to April 4.
During this time period, Mercury will be on a vacation of sorts, and we'll know because of the troubles we might have in certain areas of our lives. Look up your zodiac sign below to see how you can get around some of Mercury's tricks and get a grasp of the lessons you need to learn before moving forward into spring.
Aries (March 21 - April 19)
You might believe you're ready to take on the world, but when Mercury turns retrograde in your sign on March 12, you'll have to be content taking a few steps forward and several back. After March 23, when Mercury backtracks into Pisces and your 12th House of Subconscious, go into the deepest state of self-reflection you know how to induce, and consider what your true motivations are. It's easy to go through life being driven by your knee-jerk reactions, but there's so much for you to reap when you move with more care and deliberation. This could be the opportunity you need to institute the practice of quiet meditation and keep it in your life for good. When one moves as fast as you do, it's good to stop every now and then to make sure you're flying like a rocket in the right direction.
Taurus (April 20 - May 20)
Spending some time all alone carefully making plans for spring might sound nice when Mercury goes retrograde in your 12th House of Escape -- but you probably won't be able to get as much peace and quiet as you desire. Come March 23, Mercury moves back into Pisces and your 11th House of Teams, meaning there are issues you must clean up, probably involving a group project you only thought was all done. The time around March 18 might be particularly disturbing, because just as you get a great idea that will benefit your own career, you'll get called back to deal with some kind of communal effort. Take this as a chance to use a hidden talent that seems to come out when you work with others -- then use it to your own advantage later.
Gemini (May 21 - June 20)
You'll want to leap at the chance to get back with a bunch of people you love to hang out with as spring comes bolting in out of the blue, but Mercury could throw a wrench in your reunion plans. When the reverse messenger backs up into Pisces and your 10th House of Public Life, you may need to go back over a solitary project that put you in the limelight. As much as you'd rather not be the one who must carry all the responsibility, there's this one thing right now that only you can do. Don't miss this chance to shine -- your friends will still be waiting, and by the beginning of April your plans to gather will be far easier to pull off, and there will be more to celebrate, too.
Cancer (June 21 - July 22)
Don't race forward to take that place at the head of the class (or the corporation) just yet. You do have this thing about wanting to be the "expert," but with Mercury going retrograde in your 10th House of Career, there could be a few facts and figures you need to review before you state your case and put in your bid to lead the march. If you get into a situation where big questions leave you scrambling to find solid answers, retreat and resume your study over some information you could have previously overlooked. Review your notes or consider taking a training class if you feel your skill set isn't strong enough to entitle you to take the lead. Confidence will give you courage.
Leo (July. 23 - Aug. 22)
While Mercury spends much of his retrograde phase in your 9th House of Visions, you could go on a wild goose chase looking for answers. But, you're far more likely to find the information you need by looking within. Try not to make the mistake of going on a vacation you hope will "take you away from it all," because when you don't deal with your innermost urges and desires, they continue to follow you wherever you go. If you have to go on a trip, take along some distractions that will make waiting for transportation easier to endure. Or, you could spend some time in honest self-examination and come to terms with your true motivations. From there, you can start your journey on the path to true satisfaction.
Virgo (Aug. 23 - Sept. 22)
When Mercury goes retrograde in your 8th House of Intimacy, the first sign you get that your relationships need a little remedial work might come while you're trying to enjoy some intimate time with your lover, or struggling to share your heart with a true friend. If there's something holding you back, ask what it is that's stopping you from yielding to honesty and trust. You can't keep those walls up around you and still expect to get the happiness that comes from friendship, romance and lasting love. Work on establishing a balance of give and take, and make sure the people you deal with realize how important it is to have a little bit of both.
Get clear answers (even during Mercury Retrograde!) with a Yes or No Tarot Reading from Tarot.com.