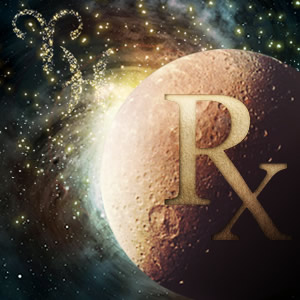 Libra (Sept. 23 - Oct. 22)
Not so fast! You might want to dive head-first into a working partnership or an interpersonal relationship that allows you to divide the work so you can get away with less than you really are capable of doing, but Mercury won't let you. This tricky, prickly planet is spending this retrograde period in your 7th House of Partners and 6th House of Work, setting up an obstacle course that makes it hard to get cooperation from others until you can show you're willing to roll up your sleeves and get stuff done all by yourself. From taking better care of your own health to tending to a job that lets you be of service to others, you need some hardcore dedication to prove you're ready to do the work it will take to keep a winning relationship afloat.
Scorpio (Oct. 23 - Nov. 21)
Don't be so quick to get serious. As spring draws near and Mercury travels through your 6th House of Improvement, you may want to initiate some new practices in your life that lead to better health, and that's a great idea. Still, before you get too rough on yourself (as you're prone to do), Mercury is going to want you to mix a little fun into your life once he backs in to your 5th House of Fun. Recently, you've probably met some people you enjoy being with. If you're single, dating might be more important than it has been up to now. Don't drop all the smiles, love and laughter to resume a work routine that's far from being reasonable. There's a way to make even the hardest work at least a little bit enjoyable. Don't stop trying until you find it.
Sagittarius (Nov. 22 - Dec. 21)
It would be so nice if you could just have a good time without having to worry about what other people are doing, but when Mercury travels back through your 4th House of Home, you will probably be drawn back to work on some issues that will strengthen your home and family life. Some breakdowns around the house or interpersonal communication problems will point out how crucial it is to establish a home that's as safe and secure emotionally as it is physically. Enlist the help of a wise relative to deal with problems that puzzle you. Emotional intelligence and sensitivity can be learned. Open your eyes, ears and -- most importantly -- your heart.
Capricorn (Dec. 22 - Jan. 19)
Oh, how nice it would be to dive right into the spring projects and plans you have for your home and family life. If you're thinking about moving or adding on to your home, be especially careful about any contracts that are involved, since Mercury kicks off his messy backward journey in your 4th House of Home Life. Communication breakdowns will be maddening and irritating to you once Mercury backs into Pisces and your 3rd House of Communication on March 23. In fact, the last week of March is going to be very challenging, as you struggle with electronics even more than you'd expect during Mercury Retrograde. Prepare by double-checking everything beforehand, leaving padding in your project schedules and choosing every word you use with utmost consideration of how it might sound once the other person hears it.
Aquarius (Jan. 20 - Feb. 18)
You might be ready to begin your spring networking spurt, but before you start sending out missives and air-dropping business cards and brochures, check your budget. When Mercury backs into Pisces and your 2nd House of Finances come March 23, monetary constraints might prevent you from following through on plans for wide publicity. Check and recheck your cash flow to ensure you're not over-investing in things that don't promise the greatest return. From now until April 13, even after the Mercury Retrograde period ends, self-promotion will be met with obstacles. Test-market your ideas on a small scale until you know you're standing on strong fiscal and strategic ground.
Pisces (Feb. 19 - March 20)
If you're considering some sort of financial move, you may want to hold off until you clear up communication problems surrounding the agreements that are involved. When Mercury travels retrograde through Aries and your 2nd House of Finances, it's a tough time to know if you've covered all your bases -- especially when you tend to see what you want to see rather than what's really there. If you're trying to make something go forward and it keeps getting stopped in its tracks, your very best instincts will tell you to wait. Listen to them. Mercury will come back to tickle your imagination during the first part of April. Keep yourself busy visualizing projects, and then arrange your finances when you're clearer about what you really need, as well as what you can afford.
Get clear answers (even during Mercury Retrograde!) with a Yes or No Tarot Reading from Tarot.com.