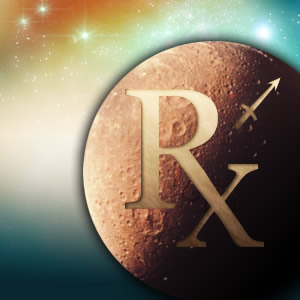 Be careful when you make your holiday plans this year! Mercury is going to make a most unwelcome move into retrograde on November 24, which is Thanksgiving Day in the U.S.!
All the usual irritations -- poor communication, broken connections, electronic meltdowns, storms and traffic jams -- will probably take place. But because Mercury will be in expansive, travel-loving Sagittarius during this backward journey, the chaos could become even more frantic. Thankfully, Sagittarius will also allow us to keep a sense of humor.
Read on to see how this Mercury Retrograde period from November 24 to December 13 may turn your life upside down in the heart of the holidays, and how it can teach you a few lessons along the way!
Aries (March 21 - April 19)
As Mercury retrogrades through your 9th House of Faraway Places, travel will be the biggest pain you might experience during this Mercury Retrograde. Patience is in short supply for you to begin with, but when Uranus moves out of its retrograde on Dec. 10, you'll take out your temper on the nearest convenient target. That's why it's extra important for you to spend time studying the facts before you make a fool of yourself. Attention to detail and digging beneath the surface aren't in your arsenal of instincts, but if you develop them, they'll add to your awesome firepower now.
Taurus (April 20 - May 20)
Innermost urges, especially the sexy ones, will be what's behind your Mercury Retrograde tweak, Taurus. Mercury is traveling backward through your 8th House of Intimacy, making this a time to go back into your past and discover feelings you might have forgotten you had. It's quite possible a former friend or a one-time lover will tap on your shoulder just to say hello now. The problem is, this person has a way of getting into your head and ratting your psyche. It will be up to you to let this person in, or not, but in any case, the deliberation is sure to lead you to examine your attitudes toward intimacy. Sex is one thing, but really allowing another person to touch every bit of your being is quite another. Choose carefully, and then forgive others -- and yourself -- for the mistakes you've made in the past.
Gemini (May 21 - June 20)
With Mercury's backtracking through your 7th House of Partnerships, one-on-one relationships will be triggers for your troubles this time around. You might find it almost impossible to make your way toward someone you're interested in, or your love life could take a turn toward the past. Maybe someone you used to be close to will come out from under a rock, or the one you're with might initiate a discussion about your union that you thought you'd already resolved. In any event, it can't be a bad thing to examine your attitudes toward partnerships, and do whatever it takes to make them work. Career-related relationships and close friendships will also improve with a thorough going-over.
Cancer (June 21 - July 22)
How do you structure your time? While Mercury retrogrades through your 6th House of Routines and Habits, you'll wish you knew how to do it better, and could pick up a lesson or two during this three-week period. The first thing you need to do is make you a priority. When you're thinking about what you want and what will be best or most comfortable for you, it gets a lot easier to set your priorities. This isn't natural or normal for someone who wants to "mother" the world, but when Mercury shreds your day-to-day plans, you'll do just about anything to keep it together.
Leo (July 23 - Aug. 22)
You could be reliving your past as you party your way through the holiday season, but don't forget there are some things that have changed! This could become especially obvious when you realize you can't bounce back after a wild night of reveling the way you used to. You'll be even more aware of the passage of time when you encounter a friend or a lover you haven't seen in quite some time. You may reinstate your relationship, or you could simply see more than ever why you called it quits the first time around. Either way, it's best for you to forgive yourself and the other person too. Now you'll both be free.
Virgo (Aug. 23 - Sept. 22)
When things start to go wrong around your home base and within your family circle, you could start to believe the planets have it in for you. Of course that's not really the case, but you are being asked to work really hard on that perfectionism thing. Real life leaves room for margins of error, so we can learn how to think on the spot. But there are times when you miss out on using the incredible adaptability you were born with. When you let go, you open up to learning new ways to trust yourself, and you see what you can do when you're tested beyond most other people's limits. Nothing is perfect except lessons from the universe, just like this one.
Celebrate Thanksgiving with peaceful insight. Get a Peace & Harmony Celtic Cross Tarot Reading from Tarot.com.