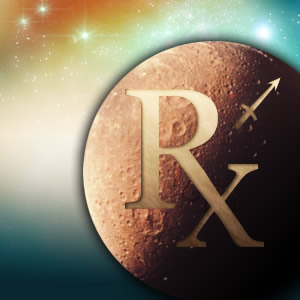 Libra (Sept. 23 - Oct. 22)
Though you might think you're in the clear because Mercury isn't going to retrograde in your sign, look out, because the action is hitting in your 3rd House of Communication and Information. Before this retrograde begins, you'd better see that your car, computer and anything else you intend to use for these few weeks is in working order. But of course there are still no guarantees of flawless performances from any of them. You could even find your thinking isn't quite as sharp as usual. Just take it one thought, one step, and at times, one breath at a time.
Scorpio (Oct. 23 - Nov. 21)
You're really good about taking care of your financial needs, and you're normally confident about your cash flow. But look out while Mercury is retrograde this time, because it's happening in your 2nd House of Finances. A mistake that involves the past, like a check you sent out months ago but had not yet been cashed, hits your account; or you could forget about a loan payment you promised to pay off by ... well, now. Don't panic -- this retrograde period will simply call attention to any errors you might make. None of this means you can't fix them before they blow your credit standing out of the respectable zone. Also, be on the lookout for a source of income you might have given up on. Opportunities from the past might knock again!
Sagittarius (Nov. 22 - Dec. 21)
Yes, Mercury will go retrograde in your sign and in your 1st House of Personality and Image. It won't be easy, and you'll probably notice things are not quite the way they normally are, but as always, you'll make the most of it! You have a secret weapon that makes any kind of planetary difficulty seem at least a little bit easier, and that's your sense of humor. People might wonder how you do it, but when you laugh your way through it when Mercury makes it tough to express yourself -- or brings back a problem you thought you'd dealt with in the past -- you're the one that wins. Be aware of the eclipses that also involve your sign on Nov. 24 and Dec. 10, and always be ready to find a way to play, as well as to grow into the best person possible.
Capricorn (Dec. 22 - Jan. 19)
When your own thoughts get confusing, for someone who wants to remain cool and in control, like you, it's hard to keep your composure. Since this Mercury Retrograde is happening in your 12th House of Contemplation, you have a good chance of coming out of this period with more sanity than most, but that's only because most of the things that are going wrong can stay in your own little world. While you're there, take more time to remember your dreams, and see how they correlate with your daily life. Some desire deep inside of you wants to come out where you'll pay more attention to satisfying it. Work, play and love are all crucial for you -- and you can get it all.
Aquarius (Jan. 20 - Feb. 18)
You like to think you're the one who can always relate to the masses and help people get the things they need and want out of life. Now, though, with Mercury retrograde in your 11th House of Communal Efforts, you could suffer more than a few setbacks. The thing to remember is that everything has a purpose. Even when you can't get a mutually convenient meeting time, or a presentation you've rehearsed falls apart when the big moment comes, keep looking for the things you need to learn. One of them might be adjusting your expectations so they're more realistic. Although you see the best in all of humanity, most us are, after all, only human.
Pisces (Feb. 19 - March 20)
You have plenty of plans for success and acclaim, and fantasies about what your life would be like if you were to accomplish them. It's great when you visualize what you want, but that's not all you have to do. This Mercury Retrograde in your 10th House of Career and Public Status could teach you how to apply yourself to the task of planning out a strategy and rolling with the punches, even when it doesn't work out exactly the way you'd like. When you don't get the feedback you're looking for, consider stopping, regrouping and making your big push after Mercury ends its retrograde period on Dec. 13th.
Celebrate Thanksgiving with peaceful insight. Get a Peace & Harmony Celtic Cross Tarot Reading from Tarot.com.