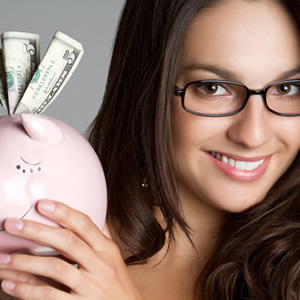 Your horoscope sign can help you tighten your wallet to save or survive lean times! Get tips for your sign here to make the most of the resources you've got.
Aries (March 21 - April 19)
What you have trouble with:
Ruled by action planet Mars, yours is the most impulsive sign of the zodiac. If you see a tasty item online or in a storefront, you're tempted to buy it right now. You especially like to be ahead of the pack, so not purchasing the hottest thing feels like denying your true nature.
How to deal:
If you're out on the town but not planning to shop, leave your plastic at home and carry just enough cash to do what you set out to do. You can also connect with a friend who holds you accountable for large purchases. Commit to calling him or her before you plunk down the cash to make sure it's a wise purchase.
Taurus (April 20 - May 20)
What you have trouble with:
You're a sucker for beautiful or luxurious objects. Owning nice stuff provides a feeling of security, not to mention the sensual pleasure that feeds your ruling planet Venus. As the collector of the zodiac, you're also prone to buying yet another cat figurine, because your set needs to be complete.
How to deal:
Remind yourself that your value is not determined by your belongings. If you crave pleasure, remember that Nature is free -- not to mention lovemaking, a nice bath, or self-massage (even better, from a loved one).
Gemini (May 21 - June 20)
What you have trouble with:
You love to have your hands in just about everything, and your mind needs to be occupied at all times. Your entertainment budget is likely to exceed your means at times, as it's tempting to subscribe to just about every magazine and newspaper on the planet. As talkative as you are, your cell phone bill could be through the roof!
How to deal:
As a Mercury-ruled sign, you probably already know that you can read most rags online for free. You're unlikely to give up your unlimited text messaging plan, but it's worth shopping around for rollover (or better yet, unlimited) talk minutes.
Cancer (June 21 - July 22)
What you have trouble with:
You are to IKEA and Bed, Bath & Beyond what a kid is to a candy shop. Yes, you're a home furnishings addict, and it can make your life unmanageable. Well, your finances, at least. As much as you want to build your nest, you cannot afford every knick knack on the block.
How to deal:
Your sign is ruled by the Moon, and as we all know, you are governed by your moods. It's not wise to tie your wallet with your emotions, so if you're feeling crabby or vulnerable, just stay home. As a matter of fact, stay off the computer too, because it's all too easy to shop online. Wait for your mother to visit, and let her pay!
Leo (July 23 - Aug. 22)
What you have trouble with:
Your tastes tend toward the flashy, and flash equals cash. Dolce & Gabbana handbags don't come cheap! You also have an appetite for parties and theater-going. Your tastes for cocktails and ticket prices tend toward the excessive, so unless you have a sugar daddy or are on a trust fund, put away the plastic.
How to deal:
There are many frugal ways to look great without going to town with your wallet. You can find some to-die-for outfits at thrift shops, or you can just learn to mix and match from your current wardrobe. Great deals for show tickets abound for those who know how to hunt. And although your pride might get in the way, you can always buy a knockoff purse on the street!
Virgo (Aug. 23 - Sept. 22)
What you have trouble with:
Between colonic hydrotherapy, green foods and gym membership, you probably spend a third of your income on your health. The body is your temple, but you don't necessarily have to be the Taj Mahal. Sometimes just being a humble Zen temple is enough -- and besides, it can be more orderly.
How to deal:
Most of the nutrients you need come in natural foods, so do your research and shop well at the market. In addition, most of your exercise can be done on the cheap if you have the discipline to do it at home or in the park. You can even do weight-bearing exercises with your own body, you don't need free weights.
Libra (Sept. 23 - Oct. 22)
What you have trouble with:
Your Venus-ruled sign is known for romantic getaways and fine dining. Yet, it's hard to stretch your dollar after you've bought tickets for two to Costa Rica. You can keep the love alive without enacting a picture-perfect fantasy.
How to deal:
A home-packed picnic in the park can be just as lovely as a meal at a five-star restaurant. Replace the string quartet with an iPod and portable speakers; the champagne with sparkling apple cider; and know that the planning itself is a romantic gesture.
Scorpio (Oct. 23 - Nov. 21)
What you have trouble with:
Do you steer towards the dark or the light? Your spending might go overboard on thrice-weekly meetings with your analyst, or on toys for the bedroom. You're known for going to extremes, so when you commit to a life pattern, you go all the way -- and so does your checking account.
How to deal:
If anything, you have a gift for control -- so if you put your mind to it, you can put the vice grip on your spending. However, your Pluto-ruled sign can have a propensity towards compulsion. Call it an addiction or whatever else you want, but if your extremism is getting out of hand, get help.
Sagittarius (Nov. 22 - Dec. 21)
What you have trouble with:
Your ruling planet Jupiter is the god of excess. Going overboard is part of your nature, if only because you are so enthusiastic: If one is good, three is better! But unless you have a huge wallet, it's time to reign in your spending impulses.
How to deal:
Get on your moral high horse and preach about the ethics of conspicuous consumption -- but only if you include yourself in the audience. If that doesn't work, fulfill your religious yearnings by doing service work instead of window shopping. With your big-picture perspective, you know that doing the right thing is the cheapest way to heaven.
Capricorn (Dec. 22 - Jan. 19)
What you have trouble with:
Status and reputation are everything, according to the Goat's handbook. Therefore, only the best will do for Capricorn. Recession news stories illustrate how big players have to maintain the second home and all the trappings of wealth in order to show they have still "got it," and thus keep their important jobs. However, spending your way into debt to keep up appearances is a recipe for disaster.
How to deal:
Not every Capricorn has tailored suits and membership to private clubs. But whether you're a CEO or a sales clerk, you need to find a way to "look right" without overspending. It's best to do away with the expenses that everyone else can't see. For example, maintain your clothing budget but have a stayvacation instead of a trip to Aspen.
Aquarius (Jan. 20 - Feb. 18)
What you have trouble with:
Whether you're a philanthropist or a geek, you like to spend your money on things that make you feel you're ahead of the curve. For some it means owning the latest tech gadgets. For others it's airfare to third world countries to help the unfortunate. Whether your spending is for good or for Good 2.0, you've bitten off more than you can chew.
How to deal:
You're an expert at thinking outside the box, so you can probably find ways to still get what you want without spending money on it. Become a tech journalist to get freebies, or start a nonprofit to raise funds for your trip to the Sudan. Bottom line, you can change the world with a dollar and a dream.
Pisces (Feb. 19 - March 20)
What you have trouble with:
The escape addict of the zodiac, you have so many ways to spend your money: music, movies ... beer. Sometimes you'll go to any length to transcend the humdrum, and the money just slips through your fingers. It's all illusion, anyway...
How to deal:
With sites like MySpace Music and Imeem, you can stream most recordings for free. (That's right, it's not stealing!) And with websites like Hulu and services like Netflix, you can watch hours of streaming movies from the comfort of your computer. Now, the beer, that's another story...