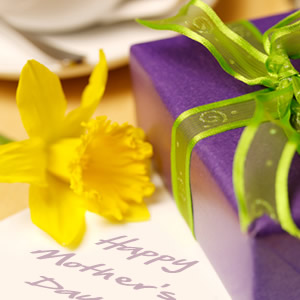 Mother's Day is right around the sunny spring corner! Instead of just treating Mom to the usual card and brunch on Sunday, May 14, why not plan a gift or activity that appeals to her horoscope sign?
There's no better way to pay tribute to the woman who brought you into this world than with an Astrology-inspired Mother's Day gift!
Aries (March 21 - April 19)
Women born under this horoscope sign are spunky, active and assertive. Forget the flowers and candy ... Aries moms would rather have top-quality running shoes or a mountain bike. Rams love personalized gifts, too; a gym bag embossed with her name or initials is sure to make her smile. If you'd like to do something special for her, take her to the golf range or plan a vigorous hike.
Taurus (April 20 - May 20)
If your mother was born under the sign of Taurus, she has a deep love of luxury. Dinner at a gourmet restaurant or a spa treatment will put her in seventh heaven. Bulls are extremely sensual, too, and love tactile gifts. A faux fur blanket or a quilted satin duvet are good possibilities. Lush plants will also appeal to this nature-loving mom.
Gemini (May 21 - June 20
Gemini moms are information mongers -- they want to know the who, what and why of everything. A fancy new cell phone will keep her connected to her nearest and dearest, while an adult education class will provide plenty of intellectual stimulation. A leather-bound journal may also appeal to this wordy mom, as would a hot new best-seller. Looking for an activity? Try a trip downtown to window shop or a visit to a museum.
Cancer (June 21 - July 22)
If your mom is a Cancer, she's probably a very sentimental soul who would appreciate a shadow box filled with family mementos. Breakfast in bed is another great way to pay tribute to this born nurturer. A mohair shawl is also a good possibility, as Crabs are sensitive to the cold. A silver ring inlaid with each of her children's birthstones is the ultimate splurge.
Leo (July 23 - August 22)
Women born under the sign of Leo are dignified, elegant and regal. A vanity set with a comb, brush, mirror and cosmetic container is a good bet. Leos often sport luxurious manes, so you may want to get her an appointment at an exclusive hair salon. A basket of her favorite DVDs is another possibility. Taking Mom to a play or concert will appeal to her inner diva.
Virgo (August 23 - September 22)
Virgo moms are ultra-practical. A time-saving gadget or some sturdy kitchen equipment will be much appreciated. Virgins believe that cleanliness is next to godliness, so a wicker basket filled with natural bath products is another good possibility. This mom is always waiting on others, so turn the tables and fix her a home-cooked meal. A nice Mah-Jongg set might also appeal to her love of games.
Libra (September 23 - October 22)
If your mom is a Libra, she's got a keen appreciation for beauty in all forms. A floral-based perfume will appeal to her romantic side, while yoga classes will improve her graceful carriage. Jewelry is always welcome -- the more feminine and delicate, the better. Sending her a bouquet of fresh flowers every month for a year will make her smile twelve times over.
Scorpio (October 23 - November 21)
Women born under this sign are perceptive, resourceful and mysterious. A pair of designer sunglasses will appeal to this mom's love of intrigue. A family tree kit might also appeal to her, as Scorpions love research projects. A tank filled with tropical fish will provide hours of enchantment, since these moms are fascinated by anything that exists beneath the surface. A heartfelt letter of thanks will also be welcome.
Sagittarius (November 22 - December 21)
Sagittarian moms are optimistic, philosophical and adventurous. If your mother isn't already an equestrian, she might appreciate horseback riding lessons. A karaoke machine will come in handy for all those fun shindigs she throws. Alternately, you may decide to stage a surprise party for her -- Archers are both spontaneous and sociable. A toiletry kit is just the ticket for all those trips she loves to take.
Capricorn (December 22 - January 19)
If your mom is a Capricorn, she is very capable, organized and ambitious. A fancy briefcase or suitcase will appeal to her inner executive. Mountain Goats usually enjoy working with tactile materials, so pottery classes will invite her to give shape to her creative impulses. Geode bookends are also both beautiful and practical, a winning combination for any Capricorn, while biographies of historical figures tend to delight these people-watchers.
Aquarius (January 20 - February 18)
Women born under this sign are rebellious, charismatic and unpredictable. Any gift that doesn't make her feel "mom-like" will be welcome. Martial arts classes, model plane kits or a fancy tool box are among the numerous possibilities. Aquarians are extremely independent, so offering to do all the cooking, cleaning and shopping will be a much-loved gift.
Pisces (February 19 - March 20)
Pisces moms are dreamy, creative and spiritual. A chiffon scarf or a veiled hat will be a big hit, because these women love to play dress-up. A digital camera is also a good possibility, since Fish often make excellent photographers. Meditation tapes will keep this mom on an even spiritual keel, while a hand-written poem will touch her heart.