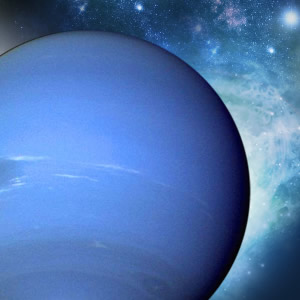 Nebulous Neptune -- the planet of illusion and confusion -- has been retrograde and forcing us us to "get real" for the last five months. But that cycle will finally come to an end as Neptune starts moving direct again on November 22, 2017. What's this mean, exactly?
Neptune is the dreamy planet, which at its best makes us see beyond the tangible world and explore spirituality, faith and fantasy. The dark side of Neptune is that its love of illusion can inspire us to escape to alternate realities we've created for ourselves -- a.k.a. delusions.
So yes, with Neptune moving direct it can once again encourage us to live in denial. We all have specific fears and hangups we don't want to deal with -- perhaps you ignore nagging financial issues or tell yourself that your less-than-satisfying romantic relationship is exactly what you need. Chances are, Neptune is behind any excuses you invent to support these ideas.
Neptune Direct allows us to keep external factors at arm's length and escape into our own inner worlds. We won't be feeling as crisp and clear as we have the past five months, so heads up!
Deception and denial are the main themes of Neptune Direct. The more imaginative and inspired traits of Neptune will show their vague faces and, if we're lucky, we can find creative ways to solve problems of misconception. You will be challenged to find a distinguishing line between what's real versus what's fake, or reachable goals versus pipe dreams.
Don't fall into any traps that could harm you just because they seem harmless on the surface. Sticky situations simply cause a lot of unneeded stress along the way, so try to be as objective as possible.
The good news about Neptune Direct is that overt expressions of idealism, compassion, imagination and spirituality come more easily with Neptune's forward turn. Dreams held silently in our hearts may slowly rise to the surface where we can take steps to turn them into reality.
Get more of what's in store with Neptune Direct! Get your personal 30-Day Astrology Forecast now!