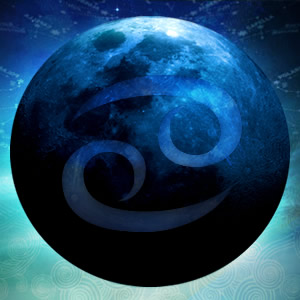 Slow down! The New Moon in Cancer on July 19, 2012 is a reluctant New Moon, one that's not in a hurry to blast out of the gate in a race to get ahead.
Caution comes with the zodiac sign Cancer, which tends to take a roundabout approach to getting new projects off the ground.
Restrictive Saturn in Libra's challenging square to this Sun-Moon conjunction signals the need for patience, and a willingness to make reasonable compromises in pursuit of our goals.
See how July's New Moon in Cancer will affect your sign:
Aries (March 21 - April 19)
Family matters could come to a head with this lunation in your domestic 4th House. Dealing with unfinished business in your household might not lead to a completely satisfying conclusion. However, meeting people halfway is necessary to maintain harmonious relationships. Others may slow you down now, yet you could benefit from the caution and counsel of an experienced and trustworthy individual.
Taurus (April 20 - May 20)
Conversations that are handled with great sensitivity go a long way toward creating understanding and smoothing out bumpy relationships. Keeping an open mind with this New Moon in your 3rd House of Communication can reveal common ground where you thought you were in complete opposition to someone else. Adversaries become allies when you take the time to hear them out.
Gemini (May 21 - June 20)
This New Moon in conservative Cancer lands in your 2nd House of Resources, reminding you to spend your time, money and energy carefully now. A more responsible and prudent approach to financial matters may stop you from wasting your cash on flash. It's better to save up for high quality goods and experiences than to buy a bargain version of something that will quickly lose its value.
Cancer (June 21 - July 22)
This New Moon in your sign can refresh your attitude and update your appearance. Discipline and commitment are keys to making positive changes last. Serious Saturn's stressful square to this Sun-Moon conjunction is meant to put the brakes on runaway emotions. Reason and reflection remind you that you've faced this kind of situation before and that you have the maturity to control your feelings.
Leo (July 23 - Aug. 22)
You could benefit by taking breaks from your usual routine to get some rest and to take a look at your life from a different perspective. This New Moon in your spiritual 12th House is a time to renew yourself by spending time alone or in a tranquil setting. Nature is especially nourishing for you at this time because it gives you a sense of belonging without applying any pressure to perform.
Virgo (Aug. 23 - Sept. 22)
You can find great satisfaction by being part of a team now, but this is your time to step out and act like a leader. There can be complications when dealing with friends, colleagues or organizations, yet you can get so much satisfaction when you are part of a group that shares your ideals. Just don't push people to go faster than they'd like, as earning trust is as important as getting the job done.
Libra (Sept. 23 - Oct. 22)
Get ready to take on more responsibilities with this New Moon in your 10th House of Public Obligations. This might advance your professional interests, yet it's important to make sure that you have the support needed before putting more on your plate. Good intentions are fine, but you require a precise understanding of your role so that you can fulfill it skillfully and without unreasonable stress.
Scorpio (Oct. 23 - Nov. 21)
Travel urges and educational itches occur with the New Moon in your 9th House of Higher Mind and Faraway Places. You could feel at home in a distant location or among people from a different culture. Learning, though, may be an attempt to bolster what you already know and to support your current beliefs. Opening your mind to consider alternative perspectives, though, will be more rewarding.
Sagittarius (Nov. 22 - Dec. 21)
Personal and professional relationships may require additional attention with this New Moon landing in your 8th House of Deep Sharing. You could be dealing with sensitive or insecure individuals who need you to understand their concerns. Don't blow anyone off with a fast comment when delicate discussions will be more helpful in keeping a current alliance on track or get a new one off the ground.
Capricorn (Dec. 22 - Jan. 19)
This cuddly Cancer New Moon in your 7th House of Others stimulates partnerships and public outreach. Seek out safe and private opportunities to discuss your own concerns. This isn't about venting, but it is a chance to share your worries without exposing them to the entire world. Tenderness and listening with your heart is as important as using your head to understand what's best for relationships.
Aquarius (Jan. 20 - Feb. 18)
Work is emphasized with this New Moon in your 6th House of Employment. Positively, it's a chance to get into a comfortable groove in your job or to commit to learning a new skill. The challenge, though, is that you might be bored if you're stuck in an overly predictable routine. Change may not happen overnight, but it will come after planning and working hard to alter your vocational situation.
Pisces (Feb. 19 - March 20)
This yummy New Moon lights up your 5th House of Romance and Play, which is excellent being more confident in expressing yourself. Creativity is enriched, as well, especially when you have the technical abilities to back up your imaginative ideas. If you're feeling stifled, though, seek out an experienced person who can provide the objectivity and guidance that you need.
Get more insight about what's coming up with a 30-Day Astrology Forecast Report from Tarot.com!