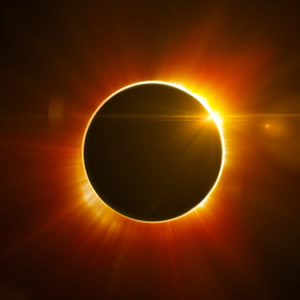 The New Moon in infinitely curious Gemini on May 20, 2012 is a Solar Eclipse, which casts a shadow on the million and one ideas that are spawning now. Dreamy Neptune's stressful square to this Sun-Moon conjunction fills minds with fantasy and fogs common sense with illusion. Filtering through false leads, overdoses of data and countless conversations requires discernment to tame the desire to know everything.
Read your New Moon Solar Eclipse in Gemini Horoscope and prepare to filter through the fog!
Aries (March 21 - April 19)
Take what others tell you with a grain of salt and test your own bright ideas with careful analysis to avoid wandering off in unproductive directions. The Moon's passage in front of the Sun is a reminder to digest thoughts slowly and tap into feelings rather than letting your mind lead the way. Saying less and listening more will prove more rewarding than trying to impress others.
Taurus (April 20 - May 20)
Hold on tight to your purse or wallet with this Solar Eclipse in your 2nd House of Money. A tendency to fall for fast talkers could wind up costing cash, time and energy. It's better to eliminate potential projects that are only okay than to bet the farm on a questionable scheme. Discovering additional sources of income could be good as long as you investigate thoroughly before investing.
Gemini (May 21 - June 20)
A New Moon in your sign kicks up fresh energy and provides the initiative to start projects. However, because it is also a Solar Eclipse you may have to take some steps backward before you can successfully advance your interests. Give your mind a rest and tune into your feelings to see the whole picture. When emotions are ignored even the brightest ideas may fall short of the mark.
Cancer (June 21 - July 22)
Pulling back to re-evaluate key issues could be critical to finding the perspective you need to make good decisions. This New Moon is a Solar Eclipse in your spiritual 12th House of Escape, which is excellent for getting away from it all to see your life in a larger context. Old beliefs may be ready to sail away, opening your soul to new sources of inspiration that can take you even further.
Leo (July 23 - Aug. 22)
Friends or colleagues may not follow up on their promises with this Solar Eclipse in your 11th House of Groups. Don't take on additional duties in an organization without carefully checking your schedule to see if you really have room for them. In fact, letting go of obligations and individuals who are more distracting than essential to your life frees up valuable time and energy.
Virgo (Aug. 23 - Sept. 22)
This New Moon Solar Eclipse occurs in your 10th House of Career and Public Responsibility, where your resources may be stretched beyond their capacity. Juggling too many balls in the air slows your progress, so dropping one or two obligations will make you more efficient and effective. Use your discriminating mind to eliminate distractions and focus on essential tasks.
Get more insight about what's coming up with a 30-Day Astrology Forecast Report from Tarot.com!