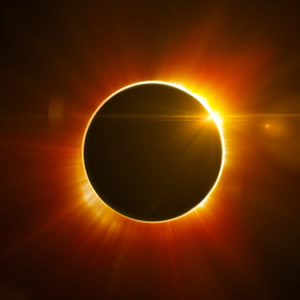 Libra (Sept. 23 - Oct. 22)
Travel and education could become more complicated with this New Moon Solar Eclipse in your 9th House of Faraway Places and Higher Mind. Making decisions about where and when to go and what to study could be difficult. The key is to reduce the number of options you're considering so you can focus your mind to find the most rewarding ways to spend your valuable time.
Scorpio (Oct. 23 - Nov. 21)
This New Moon Solar Eclipse in your 8th House of Deep Sharing calls for taking a second look at close personal, financial and business relationships. Agreements may need to be reconsidered and renegotiated if you don't feel like you're getting your fair share. Letting go of an investment or emotional opportunity about which you're uncertain is wiser than trying to force it to work.
Sagittarius (Nov. 22 - Dec. 21)
Your personal and professional life could be shaken up by this fast-talking Gemini New Moon Solar Eclipse in your 7th House of Partners. Don't allow yourself to be flattered by someone who says all the right things but who has no experience or evidence to back them up. And it's wise to avoid making bold promises yourself because it's too easy to make statements and fail to follow through.
Capricorn (Dec. 22 - Jan. 19)
Simplify your daily routine with this jittery Gemini New Moon Solar Eclipse in your 6th House of Work and Service. You may be tempted to take on a task that sounds easy but winds up being more complicated than you expect. Prevent yourself from dividing your attention to the point where you can't maintain the high standards that have earned you respect of those who know you best.
Aquarius (Jan. 20 - Feb. 18)
This New Moon Solar Eclipse in your amorous 5th House of Love can create more romantic distractions than usual. It's hard not to flirt when you're feeling playful and when others seem to appreciate your bold behavior. However, it's smart to clear the decks of relationships that merely interest your head but don't touch your heart. Let the small stuff go to focus on who and what you want most.
Pisces (Feb. 19 - March 20)
Family matters could get messy with this New Moon Solar Eclipse in your 4th House of Roots. Several minor issues could build up to a point where you feel overwhelmed by them. The good news is that most of these domestic matters can be set aside without causing any problems. That allows you to set your priorities and focus on the tasks that are the most essential to your well-being.
Get more insight about what's coming up with a 30-Day Astrology Forecast Report from Tarot.com!