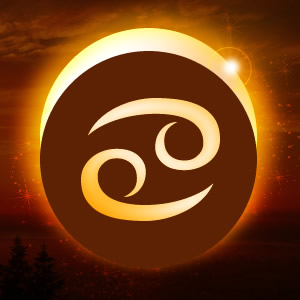 The New Moon on Friday, July 1 is also a Solar Eclipse that may send us back to the past to complete unfinished business before taking on fresh projects. The sign of Cancer seeks security, but potent Pluto's opposition and revolutionary Uranus' stressful square to this Sun-Moon conjunction are likely to shake us up with unexpected experiences.
Going forward to make creative changes works better than standing pat. Learn more about what this eclipse will bring to your life by reading your horoscope below.
Aries (March 21 - April 19)
This New Moon Solar Eclipse in your 4th House of Home Life may stir up family matters and kick up emotional issues in your home. Changing patterns can be upsetting, but if you're inventive enough to find new ways to deal with your feelings and those closest to you, this can be a time of liberation.
Taurus (April 20 - May 20)
Intimate conversations may be stirred up by the New Moon Solar Eclipse in your 3rd House of Communication. Secrets may come out in the open, whether you want them to or not. It's better to take the lead in discussing a delicate subject than waiting until the truth comes out at the most inconvenient time.
Gemini (May 21 - June 20)
This Cancer New Moon brings a Solar Eclipse to your 2nd House of Resources. It could stir up some financial surprises as you're hit by unexpected expenses. But this event can also revive interests or talents that have been dormant but which are now ready to resurge to increase your self-worth.
Cancer (June 21 - July 22)
You may be ready for a makeover with this New Moon Solar Eclipse happening in your sign. Trying to hold on to outmoded ideas, unrewarding relationships and an old image of yourself probably will require more effort than it's worth. It's time to pave the way to a fresh start as you're freed from the old limits.
Leo (July 23 - Aug. 22)
This New Moon is a Solar Eclipse in your spiritual 12th House of Contemplation. While it may arouse profound concerns about the meaning of your life, which can be unsettling, it can also open the door to newfound faith. The answers you seek can come through prayer, meditation and a deeper connection with nature.
Virgo (Aug. 23 - Sept. 22)
The powerful New Moon Solar Eclipse falls in your 11th House of Groups, which can shake things up within organizations, teams and with your friends. The old rules may no longer apply in any of these relationships, making it easier and wiser for you to adapt to change instead of stubbornly resisting it.

Find out even more about the big changes to come witha personal 30 Day Forecast Report from Tarot.com.