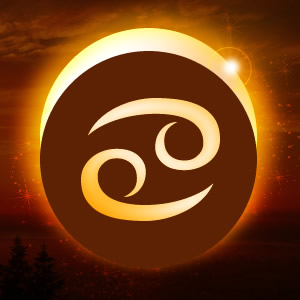 Libra (Sept. 23 - Oct. 22)
A shake up in your professional life and in any other public positions of responsibility can be expected. This New Moon is a powerful Solar Eclipse in your 10th House of Career, which is likely to provoke crises but also create opportunities. If you're forward looking, rather than stuck in the past, it's time for a bold move.
Scorpio (Oct. 23 - Nov. 21)
This intense Cancer New Moon in your 9th House of Learning and Faraway Places touches higher education and travel. It's a Solar Eclipse that could radically alter your plans in these areas. Don't force yourself to make a trip or stick with a class that just isn't sitting right with you.
Sagittarius (Nov. 22 - Dec. 21)
This sentimental Cancer New Moon falls in your 8th House of Deep Sharing. It's also a Solar Eclipse that can touch the heart of a personal or business relationship. Surprises spurred by others could provoke financial or emotional challenges that are best met by seeking change instead of resisting it.
Capricorn (Dec. 22 - Jan. 19)
This Cancer New Moon is a Solar Eclipse in your 7th House of Partners. It can spur a sudden exit or change of commitment or open the door to connecting with someone new. These are intense times that can't be met by stoically holding your ground. Being a source of change is healthier than standing still.
Aquarius (Jan. 20 - Feb. 18)
Expect a shakeup in your job or your daily routine. This New Moon in emotional Cancer is a Solar Eclipse falling in your 6th House of Work and Habits. Making changes in your employment situation and altering your diet and exercise patterns should improve your health and relieve your boredom.
Pisces (Feb. 19 - March 20)
This New Moon is a Solar Eclipse occurring in your 5th House of Romance, Children and Creativity. It's understandable to be protective of those you love and, of course, of your own heart. Yet the message of this powerful event is to break away from old patterns to express yourself and bold and different ways.

Find out even more about the big changes to come witha personal 30 Day Forecast Report from Tarot.com.