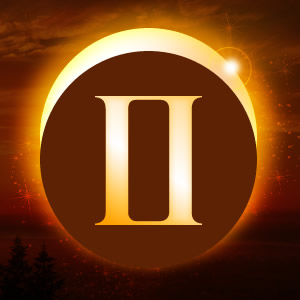 Get ready for some surprises surrounding the New Moon Solar Eclipse in Gemini at 2:03 p.m. PDT on Wednesday, June 1. When a New Moon increases its importance in our lives by also being an eclipse of the Sun, we know it's time to stop and see how it might play out in our lives. (Solar Eclipses happen when the Sun and Moon are in the same degree of the zodiac, and at the same elevation in the sky.)
The New Moon always offers us opportunities to begin again in some way, but because the Sun is blocked during a Solar Eclipse, we might be in the dark about what it is we want to get a new start on.
This cycle of the Moon begins in the sign of Gemini and culminates in a Full Moon in Sagittarius on June 15. It's a wonderful time to take action that leads to new friendships, and if you're available, to look at the prospect of dating new people and forming a romantic partnership. If you already have special people in mind, this New Moon eclipse will give you a chance to deepen your relationship by deliberately making a commitment, or setting aside more time so you can develop and enjoy your union.
The fun -- or let's say the surprise -- that's in store is how suddenly feelings may come over you around the time of the eclipse. Take advantage of the opportunities around you with the New Moon Solar Eclipse horoscope for your sign.
Aries (March 21 - April 19)
The Solar Eclipse will make its presence known by rattling affairs in your 3rd House of Communication and Nearby Places. News could come that limits the variety of activities you had in mind, or distances you from a neighbor or even a brother or sister. Maybe you're investing in a timeshare for the summer and are unsure about the group of people involved. Or, you and a close friend or lover might be planning an upcoming getaway, while you silently wonder if you'll still be into each other by then... When you make a decision, this usually means you give up some of your other options. Don't worry about what you're going to lose, or fret over who you will still like when the summer's done -- look at all the fun that lies ahead instead.
Taurus (April 20 - May 20)
This eclipse will hit you somewhere in the pocketbook, because it's aiming its energy right at your 2nd House of Earning and Spending. A change may come into your life that makes it necessary to find a second source of income; or you might have come into some additional cash that leaves you with a decision about what to buy and when. Possessions equate to security for you, and that's nothing to be ashamed of. But when you become conscious of it, you'll be one step closer to knowing what your priorities are. If you need to make a decision regarding a relationship that involves work or love, choose the one that leaves you feeling safe and secure enough to afford life's little luxuries.
Gemini (May 21 - June 20)
A person with as much poise as you probably isn't intimately familiar with the feeling of being bowled over, so brace yourself! This Solar Eclipse will be in your sign, affecting your 1st House of Personality, Image and Self-assertion. You're being asked to make a major change in the way you present yourself to the world, physically and emotionally. You could change the way you look, acquire a new and more forceful mode of expression or fall suddenly and irrevocably in love. The point is, things will happen to you that leave you with no choice but to make a definite decision and go with it. Follow your heart and you won't be sorry.
Cancer (June 21 - July 22)
Like putting out a fire with gasoline, this eclipse of the Sun will fuel the combustible thoughts you harbor on a daily basis. Worrying is a habit and a hobby of yours, so when you experience this surge of power in your 12th House of Innermost Concerns, you'll take it up in earnest, at least at first. The imaginings you have now don't have to be clouded with dread and darkness. If you allow yourself to break from the past, you can make a choice to open up to your imagination without falling prey to negative thoughts. Choose to answer concerns in your life with your faith and wisdom rather than mechanically asking questions that begin with "What if..."
Leo (July 23 - Aug. 22)
You attract a lot of people with your charm, grace and winning sense of humor. Sometimes, though, it might feel like you have too many acquaintances, and that they crowd you out of your own space. When you have a large enough number of friends to lead you to wish you had fewer, it's time to sort the wheat from the chaff. This eclipse in your 11th House of Groups will push you to make decisions about how you want to spend your spare time. Quietly closing the door on a casual friendship or two won't force you to never see these people again. It might even give you a chance to pursue your passions and meet people who will work with you toward a noble and common goal.
Virgo (Aug. 23 - Sept. 22)
It's just like you to put the act of being of service ahead of your own acclaim and gratification, but you may not wish to do this when the Solar Eclipse puts a jolt through your 10th House of Status and Achievement. You might think "ambition" is something you don't want to be associated with, but there are times when everyone needs it, and this is yours. Look for opportunities or events that push you to promote yourself and put you in front of a wider and more appreciative audience. If you get a call for work beyond your current job, you don't necessarily have to make a change, but it certainly may be worth investigating. It's time for you to step into the spotlight and take a bow for the awesome skills you have developed through talent, work and determination.