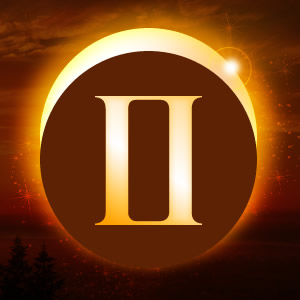 Libra (Sept. 23 - Oct. 22)
When the Solar Eclipse blasts its way into your 9th House of Expansion and Curiosity, plan to be intensely involved in something that could reshape your world. You may choose to take a trip that changes the way you view your life and the world you've created. A stranger from another culture or country could come into your life, and you might volunteer to act as tour guide or advocate. It's hard for you to be anything but just and fair right now, but don't neglect your own interests, and make sure you get the respect and consideration you deserve.
Scorpio (Oct. 23 - Nov. 21)
Take a deep breath and imagine what paradise would be like for you -- the eclipse might transport you there, as it energizes your 8th House of Sex, Intimacy and Sharing. If you already have a partner, a breakthrough in your interpersonal relationship might let the two of you have the kind of sex life that got you started many Moons ago. If you're looking for love, you might be astounded when a new potential partner enters the scene -- one of those people who "gets" you so well. If love's out of your life at the moment, an issue about joint property could bring out your deepest feelings about sharing: the not-so-pretty ones and nice ones too.
Sagittarius (Nov. 22 - Dec. 21)
This eclipse, as it shoots Cupid's arrow into your 7th House of Love and Partnership, is going to go out of its way to turn your tendency toward singleton-hood upside down. If you're not already in love, that overwhelming feeling that makes you think "uh oh" could hit you like never before when you meet an incredible person. Even if you've been coupled up for eons, something magical -- and uncontrollable -- could happen when your loved one simply looks your way. Open your heart and realize this person loves you enough to let you be the free spirit you are, with very few strings attached. Not in the lovey-dovey spirit? Your knack with customers or the warmth of a best friend will bring you great joy.
Capricorn (Dec. 22 - Jan. 19)
You look to your body and your health as something that serves your best interests, and for the most part you can depend on it. Right now, though, with this Solar Eclipse pounding your 6th House of Health and Daily Routines, your body is going to get on a loud P.A. system and announce its desire for your attention. Disruptions in your day-to-day dealings could turn on the stress pumps and upset your usually reliable zen nature. Equally, if you're intent on being proactive about self-care, there couldn't be a better time to institute new ways to keep your body in Maserati-like peak performance shape.
Aquarius (Jan. 20 - Feb. 18)
You like to think you've got a great social life, and chances are you really do. Improvement is the kind of thing you invite into all areas of your life, so even with a few disturbances, you'll relish the impact of the eclipse hitting your 5th House of Fun and Play. If you don't have children, you will in some way be asked to behave like a kid. Experiment with new methods of drawing on your creativity, step out of your comfort zone and onto the dance floor, and unleash your innermost romantic. Accept a change in friends as a gift, and welcome new people in your life who may more closely match your ways of having fun. Appreciate the things you're passionate about and understand your sense of humor.
Pisces (Feb. 19 - March 20)
There's no place like home, as they say, and you'll appreciate yours even more after the eclipse has its way with your 4th House of Home and Family. There could be a shocking announcement of some kind, ranging from the announcement of a wedding, a visiting relative or an addition to the clan to the realization that you have to move from your current abode to a new one. Make your decision based on what's best for your personal sense of security. You can say what you wish about living in your imagination, but at the end of the day, there's nothing that feels safer than four real walls and a genuine roof.