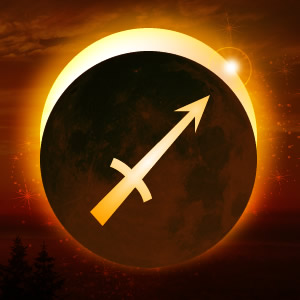 The enthusiastic Sagittarius New Moon at 10:10 p.m. (PST) on Thursday, Nov. 24 is a Solar Eclipse that pushes us ahead while holding us back. The outgoing sign is about adventure and risk-taking, but its forward thrust is slowed as the eclipse requires us to look back and complete unfinished business before pushing ahead. Hopefully we'll have extra time to do that on this cosmically action-packed Mercury Retrograde Thanksgiving day!
Fussy Mars in Virgo's tense 90-degree square to this New Moon reminds us to fill in the details and perfect our skills before leaping ahead with overly optimistic plans.
Careful planning and management of details is essential to keep from going off track now. Learn more about what this eclipse will bring to your life by reading your horoscope below.
Aries (March 21 - April 19)
Travel plans, education and religious beliefs may be shaken as you drill down and examine the details that undermine your ambitions and ideals. This Solar Eclipse in your visionary 9th House of Higher Education and Travel is a reminder to dig more deeply into your assumptions about to future to make sure that you have the facts and the training needed to take the next big step.
Taurus (April 20 - May 20)
This New Moon Eclipse falls in your 8th House of Deep Sharing, altering conditions in significant personal, financial and professional relationships. Tighten up details so there is no ambiguity about what you expect from others and what they expect from you. You can create magic if you're willing to let go of old expectations and rebuild your alliances from the ground up.
Gemini (May 21 - June 20)
Relationships hopes can rise and fall dramatically with this New Moon Eclipse in your 7th House of Partners. Expectations must be managed as big promises require control of every detail for them to have a chance of coming true. Letting go of people and projects that inspire you but lack practicality reduces stress and makes room for better things to come.
Cancer (June 21 - July 22)
This high-powered Solar Eclipse falls in your 6th House of Employment, where it can shake up your job and your daily routine. Simplify your life and concentrate your efforts on narrow tasks because quality is worth more than quantity now. Additional training may be necessary, but not if it stretches your time and budget beyond reasonable limits.
Leo (July 23 - Aug. 22)
Romantic endeavors and creative projects may need to be reconsidered with this Solar Eclipse in your 5th House of Self-Expression. Joyous experiences can feel more like obligations than good times if you don't manage them carefully. Complications with children are also possible, so eliminate unessential activities to concentrate on your most important tasks.
Virgo (Aug. 23 - Sept. 22)
Try to keep things simple at home with this rousing Solar Eclipse in your domestic 4th House of Home and Family. Family matters can grow complicated and projects could get out of hand. Allow more time to take care of these matters and address them in as efficient manner as possible. Minor issues should be cleaned up quickly or let go, instead of allowing them to become major distractions.
Start this new cycle with insight! Get a Life Cycle Tarot Reading from Tarot.com.