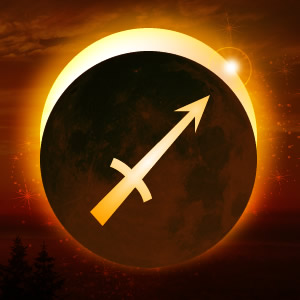 Libra (Sept. 23 - Oct. 22)
Your mind may be filled with big ideas, yet learning to cull the flock to keep from being overwhelmed by too much information is essential now. This Solar Eclipse falls in your 3rd House of Information, which requires a simplification in the messages you send and the data you take in. Stick to facts and practical matters rather than allowing your thoughts and words to wander.
Scorpio (Oct. 23 - Nov. 21)
Financial matters need to be simplified with this Solar Eclipse in your 2nd House of Resources. Letting go of big schemes and expensive dreams will reduce pressure. If you have a business plan that's inspiring you now, nail down every little detail to gain control of it and don't allow someone else's enthusiasm to overcome your core values and good sense about money.
Sagittarius (Nov. 22 - Dec. 21)
This Solar Eclipse in your sign can stir strong emotions. Flattery can lure you into overreaching or taking risks before you fully consider the consequences. You don't have to let go of your most meaningful aspirations but can easily become overwhelmed if you try to go too fast. Attending to every minor detail may be tedious but vastly improves your chances for success.
Capricorn (Dec. 22 - Jan. 19)
Don't assume that everyone on your side is really working on your behalf. This Solar Eclipse in your 12th House of Secrets can indicate that you're not getting the whole story in an important area of your life. If you have doubts about a person's commitment, ask for facts to ensure that you're on the same page as even idealistic individuals could fall short of your expectations.
Aquarius (Jan. 20 - Feb. 18)
You're usually a good team player, but you may be promising more than you can deliver or relying on others too much now. This Solar Eclipse falls in your 11th House of Friends and Groups, which can alter the patterns of your alliances. Letting go of organizations and individuals may not be easy, but it's better than getting in over your head with tasks that may be difficult to finish.
Pisces (Feb. 19 - March 20)
This Solar Eclipse occurs in your 10th House of Career and Public Responsibilities, which can complicate your life in these areas. Managing your obligations effectively may require you to narrow your focus and concentrate your efforts where they are most needed. Experts can be helpful as long as you don't let them operate without your careful supervision.
Start this new cycle with insight! Get a Life Cycle Tarot Reading from Tarot.com.