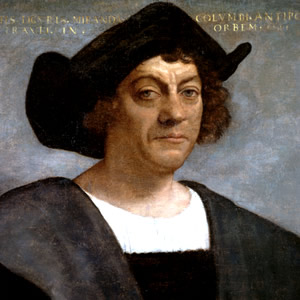 In 1492, Columbus sailed the ocean blue -- that's a well documented historical fact. What isn't so well documented is Christopher Columbus' birth date, which has been narrowed down to sometime between late August and late October of 1451. This means the notorious European explorer could have been born a Leo, a Virgo, a Libra or a Scorpio. What do you think ... should we try to figure it out?
In celebration of Columbus Day on Monday, Oct. 13, 2014, let's set out to examine this notable explorer's life -- which admittedly comes with mixed reviews. The fact is, Columbus did not technically "discover" America, nor did he succeed in finding a shorter route to Asia as he had set out to do. But he did pave the way for the colonization of the Americas, and his legacy lies in the spirit of the pursuit of happiness.
A historical snapshot
Columbus was born in Genoa, Italy, where he spent his early years helping his father run his cheese stand. He wrote of first going to sea at age 10, and before his most noted voyages he spent years working on cargo ships, as a business agent and trading along the West Coast of Africa. Over the years he married a Portuguese lass, had two children and took up with a 20-year-old Spanish mistress after his wife died.
In the mid-1480s, Columbus began petitioning the king of Portugal to fund a voyage in search of a western route to Asia, which was denied -- again and again. He was also denied his somewhat arrogant demand to be named "Great Admiral of the Ocean."
Finally, after years of appeals to various monarchs, he got the go-ahead from Queen Isabella of Castile in 1492. On the evening of Aug. 3, 1492, Columbus set out on a long voyage with three ships, the Nina, the Pinta and the Santa Maria. His ships sighted land in what is now the Bahamas on Oct. 12, 1492, and his crew then spent several months exploring the islands, shipwrecking the Santa Maria, picking up syphilis, being taken prisoner briefly and finally returning to Palos on March 15, 1493.
We're glossing over history a little bit here, folks, but the main point is that between 1492 and 1503, Columbus made numerous round-trip voyages between Spain and the Americas, which marked the beginning of the European exploration and colonization of the Americas.
When Columbus returned to Spain for the last few years of his life, he was accused of tyranny (he hanged a few of his crew members for disobedience) and he was stripped of his titles and riches. He did regain some of his wealth, but he died May 20, 1506 never knowing he hadn't actually discovered a shorter route to Asia.
Leo, Virgo, Libra or Scorpio?
So then, Christopher Columbus, what's your sign? Were you a social, fair and balanced Libra? What with the accusations of tyranny and renowned mistreatment of the natives and crew members, we're gonna guess not.
Were you a perfectionist Virgo? Biographies say Columbus was intelligent, but not scholarly. We think a Virgo may have studied more, and perhaps been able to judge distances better. And certainly a critically-minded Virgo would not have failed the mission!
What about a passionate, intense Scorpio? This is more possible, but due to Scorpio's underlying sensitive nature, we think not.
In light of Columbus' signs of determined arrogance and refusal to accept "no" for an answer, even when it turned out many of his calculations were incorrect; combined with his fiery temper, his dramatic decision making, his love of the ladies and his ability to charm his way to a new world, we believe this man was a Leo. History may not be able to determine Christopher Columbus' horoscope sign, but we think we're onto something. We're voting Leo all the way! What do you think?
Explore what's on your own horizon with a 30-Day Astrology Forecast from Tarot.com!