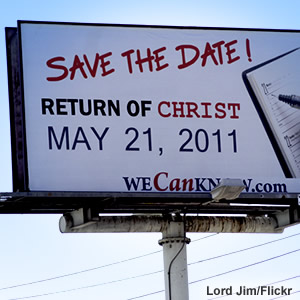 Don't worry, Gemini. You'll still get to celebrate your birthday. In spite of a huge global movement of loosely organized Christians predicting the end of the world on May 21, 2011, it looks like a pretty nice Sun-in-Gemini day to us.
As reported by MSNBC, believers are following the lead of a California-based Christian ministry leader Harold Camping, who believes the bible functions as a cosmic calendar that narrows the end of days to May 21. Now, believers of Camping are broadcasting that end-date far and wide via radio, Internet, pamphlets, billboards and bus benches.
"In the U.S., there is still a significant population, mostly Protestant, who look at the Bible as a kind of puzzle, and the puzzle is God's word in predicting when the end times will come," Loyola University professor Catherine Wessinger told MSNBC.
Hmmmm... ok, so how about we look to Astrology for some cosmic clues to this potentially dangerous date?
On May 21, 2011, the Sun will move into the chatty sign of Gemini at 2:51 a.m. PDT, and later the Sun will make a trine to that evening's futuristic Aquarius Moon. Futuristic being the operative word -- doesn't that pretty clearly contradict the very idea of, um, no future?
Also on May 21, Venus will make a loving trine to Pluto, which is an excellent time for relationships and friendships to blossom. People come together during this sensual transit, discovering beauty in one another and experiencing strong and passionate feelings.
Interestingly enough, the Moon also will form a square with Jupiter on May 21, an aspect that highlights the idea of making snap judgments and irresponsible decisions without having the facts straight. Ya think? Like going out on a limb to predict the end of the world?
We'll be seeing ya' May 22 to wish you happy birthday, Gemini.
If you like what you see on dailyhoroscope.com, please consider following us on Facebook and Twitter.