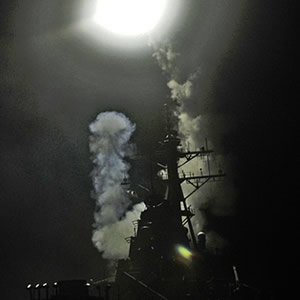 Over the weekend an allied air mission attacked Libya in an attempt to break up and isolate Moammar Gadhafi's force. The weekend of missile strikes and air patrols was branded "Operation Odyssey Dawn," but we here at DH are referring to it as "Operation Uranus in Aries" because the astrological timing of the strikes cannot be ignored.
Saturday's military strikes coincided with the Full Moon in Virgo, which many of us know by now as the Extreme Super Moon, as well as Spring Equinox in the Northern Hemisphere and the Sun's move into Aries -- the sign of war.
We asked our Master Astrologer Rick Levine for his take on the timing of this latest upheaval in the Middle East, and he said it has less to do with the Super Moon, and more to do with the rarity of having a Full Moon fall so close to the Equinox/Aries point while the Sun also conjuncts Uranus.
"It's really rare to have a Full Moon opposing Uranus so close to the Equinox," Levine said. "Add the Jupiter-Mercury opposition to Saturn and you have a world class event."
This world class event is still ongoing, and we are hearing reports that the mission is expected to be successful in enforcing the provisions of a U.N. Security Council resolution demanding that Gadhafi cease firing on civilians.
But we really want to know is why these missile strikes happened so suddenly. In fact, some people are voicing the opinion that Obama should have given the go-ahead much sooner, yet he chose to wait until the weekend to launch the attack.
"Uranus is barely a week into Aries, the sign of war," Levine reminds us. "Having it triggered by the Sun and Moon so strongly and so soon after its ingress speaks of a sudden air strike and an unexpected act of war."
We'll keep our eyes to the skies and our ears tuned in to the experts for more as the situation in Libya continues.
If you like what you see on dailyhoroscope.com, please consider following us on Facebook and Twitter.