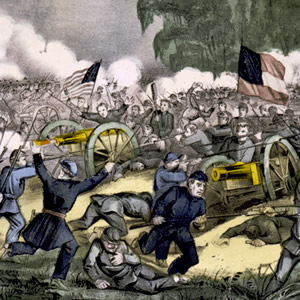 On this 150th anniversary of The American Civil War, many of us are looking back on a pivotal period in U.S. history and remembering the battlefields, the generals and the soldiers lost. But this is not just a history lesson -- astrological clues to the Civil War can teach us lessons to apply in our lives today.
What was really going on during this tumultuous 4-year war? What was causing the social, political, economic and racial unrest that led to such upheaval, which eventually transformed the entire nation? Let's take a closer look at what may have influenced the Civil War's key people and events.
Most importantly, Neptune was in Pisces on April 12, 1861, the day hostilities began when Confederate forces attacked Fort Sumter in South Carolina. Neptune in Pisces is actually a spiritual transit, all about unity and oneness --which we don't usually associate with war.
However, Neptune in Pisces is also about acting on our beliefs. And because we all have such differences in our beliefs, that passion can spawn crimes, tragedies and civil wars -- even if it is in an effort to ultimately achieve peace and unity. The end result? North vs. South.
Now, get ready for this: Neptune is in Pisces again now, as it hasn't been for 149 years. Will we see another grand-scale spiritual awakening as we did as the start of the Civil War? From the looks of it, we're heading that way -- though we are truly at the beginning, as Neptune just moved into Pisces and will remain there for 13 more years (that is, with a short retrograde break from August to February).
By the time the American Civil War officially ended on April 9, 1865, Neptune had moved out of Pisces, putting the focus back on Uranus, the planet of revolution. Notably, Uranus was all riled up in fast-paced, changeable Gemini throughout the Civil War (Uranus also was in Gemini through most of WWII, by the way). And it's fascinating to know that Uranus moved into comforting Cancer on the very same day the last Civil War shot was fired on June 25, 1865.
It's also interesting to look at the Astrology of some of the Civil War's key players, many of whom were either born in the sign of Pisces or Aquarius, or on the Pisces/Aquarius Cusp.
On the side of the Union, President Abraham Lincoln took the lead as an idealistic, humanitarian Aquarius. General Ulysses S. Grant was a stubborn Taurus with a reputation for never quitting. And General Philip Sheridan Hist was born in the peaceful, dreamy sign of Pisces, which was at odds with his military success, but interesting because he may indeed have been fighting for his ideals just as Neptune in Pisces inspires.
On the side of the Confederates, President Jefferson Davis was a Gemini -- perhaps he was too distracted to lead the confederates to victory? Commander Robert E. Lee and General Thomas Jonathan "Stonewall" Jackson were both born on the Pisces/Aquarius Cusp, so both were idealists who fought for what they believed in. It was a losing battle, of course, but the end result was the rebirth of a brand new, better nation.
So now that we've come full circle and find ourselves at the beginning of a new Neptune in Pisces transit, will we take some lessons from the past and make our next spiritual revolution more peaceful? Let's hope so.
If you like what you see on dailyhoroscope.com, please consider following us on Facebook and Twitter.