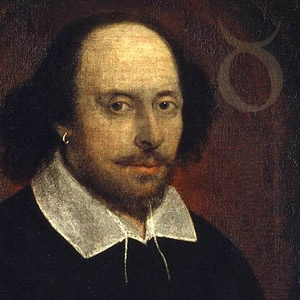 Happy Birthday, William Shakespeare! Ok, well, actually no one really knows the exact birth date of the great English poet and playwright, but Shakespeare's birthday is widely celebrated on April 23. And whether or not Willy is a Taurus as we suspect, we're celebrating the man and his work, which was so often inspired by Astrology. Who knew?
It's true, Shakespeare was a big fan of Astrology, which he used to inspire his work. He made more than 100 references to Astrology in his 38 plays, guiding his characters' lives and fortune or misfortune by the planets and stars, and often referencing the horoscope signs.
Just think of the "star-cross'd" Romeo and Juliet, and how Romeo poisoned himself because it was the only thing that could "shake the yoke of inauspicious stars."
There's also Anthony in Julius Caesar, who blamed the fact the stars had forsaken him and the Moon's eclipse for his defeats.
In the very first scene from All's Well That Ends Well, Helena says to Parolles, "You were born under a charitable star" and then they go on to discuss Mars in retrograde.
Oh yeah, and here's a nice little cosmic excerpt from King Lear: "These late eclipses in the Sun and Moon portend no good to us. Though the wisdom of nature can reason it thus and thus, yet nature finds itself scourg'd by the sequent effects. Love cools, friendship falls off, brothers divide…"
Elizabethan audiences were very open to Astrology at the time Shakespeare produced most of his work, and many people of this time believed destiny is shaped by the heavens. So with Shakespeare's knowledge of Astrology and his flair for drama, how could he not incorporate such cosmic influences into his work?
It would be fun to take a closer look at Shakespeare's birth chart, but we can't dig too deep without an exact birth date or time. That said, if he was in fact born April 23, 1564 in Stratford-upon-Avon, Warwickshire, England, Shakespeare is a Taurus with a Libra Moon -- a very likable combination, indeed.
Shakespeare's Taurus Sun and Libra Moon together would give him a great understanding of people and the highs and lows of life, plus good humor and an appreciation for drama and the arts. All of which are evident in his body of work.
Sounds about right to us! Fortune's fool Shakespeare was not.
Get your own Birth Chart and Report from Tarot.com.