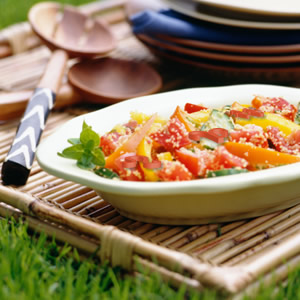 Crunch on this: Fresh fruits and veggies are so abundant during summertime that there's really no excuse to not bite into something healthy and organic. It's so much better for your physical and spiritual well being than gobbling up all that processed stuff. Look to your horoscope sign for tips on eating organically:
Aries (March 21 - April 19)
An on-the-go powerhouse like yourself needs power foods, and there are plenty of organic super-foods to choose from -- spirulina, hemp seed powder, goji berries, raw cacao ... blend any and all of the above with organic fresh or frozen fruit for a morning smoothie that helps you go, go, go all day. Add a dash of cayenne pepper -- a natural immune booster -- to fuel your fire!
Taurus (April 20 - May 20)
As the earthiest of the Earth signs, you have a natural kinship with root vegetables, especially the humble potato. Simple comfort foods suit you perfectly. Pick up some organic potatoes, carrots, turnips, parsnips and/or beets at your local farmers' market -- or from your own backyard garden -- and roast them for an easy but satisfying side dish. Don't forget the sour cream!
Gemini (May 21 - June 20)
You need healthy snacks you can take on the go and eat while multi-tasking. Gather a variety of organic nuts and dried fruits and make yourself a different trail mix to take with you each day. Satisfy your need for novelty with some exotic options -- like dried mango and papaya. Be sure to include walnuts -- they look like little brains and their high concentration of omega-3s offers great support for your ever-busy mind!
Cancer (June 21 - July 22)
Cancer rules the stomach and food is very important to you, as both physical and emotional nourishment. Update Mom's comfort food classics -- meat loaf, casseroles and pies -- by using all organic and whole-food ingredients. For the times when your emotions feel out-of-whack (Full Moon!) bring on the organic turkey, milk and oats -- all featuring mood-mellowing tryptophan. own backyard garden -- and roast them for an easy but satisfying side dish. Don't forget the sour cream!
Leo (July 23 - August 22)
Now that eco-conscious eating has hit the mainstream, your love of luxury can be satisfied by the many organic options available. For your next celebration, stock up on organic champagne, pate, brie and olives. Sweeten your daily life with mood-lifting organic honey -- traditionally associated with the Sun, your planetary ruler. If you can find a local source, its healing properties are even more powerful.
Virgo (August 23 - September 22)
As the sign ruling health and healing, organic foods are right up your alley. Nourish your inner Harvest Goddess -- the deity traditionally associated with Virgo -- with organic whole grains. You don't need anything fancy, and in fact your sensitive digestive system tends to be happier with simple foods. A bowl of brown rice, barley, millet or quinoa with steamed veggies suits you just fine.