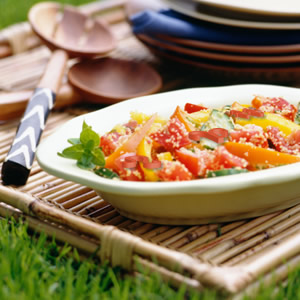 Libra (September 23 - October 22)
Libra rules confections, and happily, there are now many organic options to satisfy your sweet tooth. Seek out organic and fair-trade chocolate, preferably with an added frou-frou factor like lavender or currants. For a more natural sweet treat, enjoy organic apples -- the fruit sacred to Love Goddess Venus, your planetary ruler. Blueberries -- believed to inspire peaceful feelings -- are another healthy alternative.
Scorpio (October 23 - November 21)
The Underworld -- everything hidden beneath the surface -- is Scorpio's territory. Honor your underworld affinity by eating a variety of organic mushrooms -- crimini, shitake, portobello, chanterelles ... although the part of the mushroom we enjoy -- the "fruit" -- is above-ground, most of the fungus is often hidden underground. The detective in you might enjoy gaining mycological skills and stalking wild varieties on your own.
Sagittarius (November 22 - December 21)
Sagittarius, the half-horse Archer, is associated with both wilderness and pushing the limits. So why not take organic one step further and go for wild? Try hunting and gathering in the woods yourself, or seeking out wild treats at a farmers' market. Satisfy your undomesticated side with wild berries, mushrooms, greens -- like dandelion, lamb's-quarters and purslane -- as well as wild-caught fish.
Capricorn (December 22 - January 19)
Capricorn is the sign of longevity -- the older you get, the younger you feel. Encourage this natural tendency with organic foods that support long-term health. Consider a traditional Italian dinner with whole-wheat organic pasta and a tomato, garlic and spinach sauce -- three heavy-hitters when it comes to anti-aging antioxidants. Red grapes are also natural longevity-boosters so include a glass of organic red wine!
Aquarius (January 20 - February 18)
The circulatory system is ruled by the Water-Bearer, so choose organic foods that support your inner flow. Free-range, grass-fed beef is not only a more humane option than conventional factory farms -- the meat also contains anti-inflammatory omega-3s (lacking in grain-fed livestock). Organic olive oil, an excellent source of oleic acid -- which helps reduce blood pressure -- is another beneficial addition to your diet.
Pisces (February 19 - March 20)
Your innate sensitivity, combined with your tendency to over-indulge, makes you a prime candidate for foods with a detoxifying influence. Rather than seeing detoxing as self-depriving, try adding a few helpful organic veggies to your diet: artichokes shield liver cells from toxins, watercress is both rich in minerals and is a natural diuretic and cabbage activates detoxing enzymes in your liver.