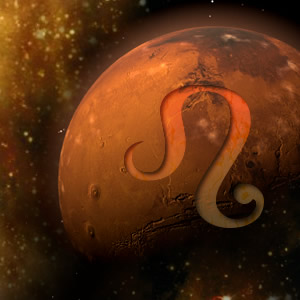 Fiery Mars roars through lively Leo from July 20 to Sept. 5, 2017, and the action planet feels right at home in this environment where creativity, confidence and charisma abound. However, sometimes these positive attributes may come at a price. Excessive pride or conceit can turn every act into a performance where spontaneity is inhibited by hunger for approval. Innocently enjoying self-expression with art, romance, fun and games balances the ego's constant need for attention.
The nature of Mars is to initiate, take risks and lead. These qualities are supported by Leo's role as a take-charge personality. This period, then, is one in which there is support for those who have the courage to let their hearts lead the way.
A possible challenge at this time is that impulsive young Mars energy may take itself too seriously, posing as a mature Leo leader who has earned the throne. It's as if the prince acts like he's the king. Leo's royal confidence grows from experience that Mars often often lacks. Without the seasoning wisdom of time, he can come across as arrogant, or all sizzle and no steak. Even a prince has to pay his dues if he is to be a great ruler.
Leo is a Fixed sign, one that doesn't change easily. Mars may lose some its spontaneity and operate in a more sluggish way than usual now. The essential issue is whether Leo will be in its open, creative and generous mode or its dominating and stubborn one. If Mars can keep it light and playful, the former will win; if it takes itself too seriously, the latter will. The greatest potential of this period, therefore, is for those who put play before conquest.