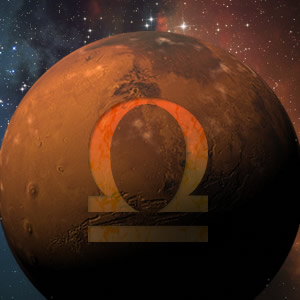 Life and love are about to slow down as Mars moves through the partnership sign of Libra from October 22 to December 9, 2017! We know Mars as the aggressive "warrior planet," but we're going to need to rethink that when this bold action planet moves through this peaceful horoscope sign.
Mars has been in perfectionist Virgo since early September, so we've been preoccupied with nitpicky details for the past few months. But when Mars is in sociable Libra, we'll loosen up a little. This is a great time to meet new people, look for a job or start new projects.
Mars is much more diplomatic while in balanced Libra. Our actions become more thoughtful of others, and it's more about negotiating than forcing your way. In fact, if you've had a fight with someone, this transit is a great time to make up.
That's because Mars in Libra wants everything to be fair and balanced. This is the time you'll be more inclined to try and get along with everyone. If someone needs to step up and fight for the underdog, they will now -- but don't be surprised if you experience less arguing or sniping overall during this time.
When in Libra, Mars is better able to think things through before acting impulsively. This could lead to a bit of procrastination, but at least that's better than starting fights or rushing into things you'll later regret.
Even with all of these positives, Mars isn't entirely comfortable in Libra. Libra is opposite of Mars' natural home in Aries, so its placement in Libra is weak. But that's ok, because Mars in Libra creates happy opportunities for co-operation and reflection, which results in an overall peaceful time. We like it.