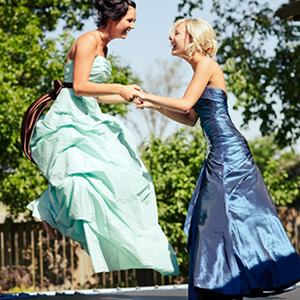 Libra (September 23 - October 22)
While Libras are known for being current, they're not trendy -- they're timeless. And your special brand of glamour doesn't involve bling, it involves a classic sense of style. The little black dress is perfect for you: think a full-length halter worthy of Audrey Hepburn. Feeling saucy? Try a criss-cross back and spaghetti straps with a cut that gathers at the waist and flows straight down to the floor. Go minimalist on your accessories, and bring the class to your class' prom!
Scorpio (October 23 - November 21)
Yours is one of the most intense and passionate horoscope signs -- the sign of both sensuality and the underworld. Combine two of the most intense colors -- red and black -- in a style that packs a punch. A form-fitting frock with a plunging neckline that flares at the hem is perfect for you. Make the most of your natural curves and be true to your dramatic astro-personality!
Sagittarius (November 22 - December 21)
You're a fire sign, and you also have a mind for travel. That means bright colors in prints -- anything from animal print to paisley -- are right up your alley. And because you're fascinated by other cultures, and a free-thinker, you'll want to buck the trends and wear something unusual. Think Chinese-style formal dress, or go the opposite direction and wear something with a multi-layered skirt in loud fabrics.
Capricorn (December 22 - January 19)
You're in no danger of your parents forbidding you from leaving the house in what you're wearing, Capricorn -- you're all-business, and you prefer conservative and quality over showy. Find a high-cut strapless dress with a sash or belted detail, and make sure it goes to at least your knees. You'll feel true to your professional style. Just make sure whatever you choose is also made of the highest quality fabrics -- nothing but the best for your sign!
Aquarius (January 20 - February 18)
In the zodiac, you are the sign least likely to find another girl wearing the same dress. That's because you have a quirky sense of style. Now is the time to show it off! Find an unusual cut -- go one-shouldered, or even one-sleeved! You're into modern trends and styles, so don't shy away from being cutting-edge. And keep in mind that yours is the sign obsessed with technology, so metallic fabrics are your calling card. Show up in gold, silver or a shimmery print!
Pisces (February 19 - March 20)
The classic prom dress was practically tailor-made for Pisces! As the dreamy sign in touch with the subconscious, you probably prefer flowing, poofy skirts more than any other sign does. But there are also a lot of sleek options out there that seem to have sprung straight from the ocean -- form-fitting styles that are ruched to give that "mermaid chic" look, for example. Opt for oceanic colors like aqua marines and blues to finish out the look!